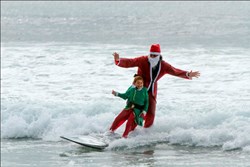 Dana Point, California (PRWEB) August 20, 2013
The Ritz-Carlton, Laguna Niguel presents the Sixth Annual Holiday Surfboard Auction and Fourth Annual Surfing Santa Competition. Honoring the resort's longtime commitment to worthy causes, these two events support Surfers Healing, whose mission is to enrich the lives of people living with autism by exposing them to the unique experience of surfing.
Surfing Santa Competition
The Surfing Santa Competition, held Saturday, November 23, 2013 at Salt Creek Beach, is a one-day competition where surfers dress like Santa or other holiday-inspired characters and surf the waves at Salt Creek. The winner of the Big Air "Flying Rudolph" division receives a $1,000 cash prize. There are additional prizes in each of the other categories including Santa's Helpers (15 and under), Santa's Elves (16-20 year olds), Toymakers (ages 20+), and Yule Loggers (open long board). The entry fee is $50 in advance or $60 after November 21, 2013. Surfers can register online at http://www.surfingsantacontest.org.
Holiday Surfboard Auction
The Holiday Surfboard Auction features a unique collection of surfboards highlighting boards from surf legends, talented artists, celebrities and renowned musicians. This year's auction opens on November 23 with bids closing at noon on December 31, 2013. Commitments for this year's auction include signed boards from Greg Long, Shane and Gavin Beschen, Koa Rothman, Matt Archbold, Sunny Garcia, Coco Ho, Donavon Frankenreiter, Mark Healy and Josh Kerr, as well boards by artists Paul Bond, Steve Wan, Dana Kirkpatrick and Tee Celestino. All of the boards are displayed at the resort while the auction is open. Bids can be made online at http://www.biddingforgood.com/surfershealing
The concept for The Ritz-Carlton, Laguna Niguel's Holiday Surfboard Auction and Surfing Santa Competition was developed by General Manager Bruce Brainerd. In 2008, the Surfboard Auction raised more than $13,000 for Surfers Healing. Two years later in 2010, the resort launched its Surfing Santa Competition. Since then, The Ritz-Carlton, Laguna Niguel resort has raised more than $120,000 for Surfers Healing.
About Surfers Healing
Surfers Healing seeks to enrich the lives of people living with autism by exposing them to the unique experience of surfing. Surfers Healing was founded by Izzy and Danielle Paskowitz. Their son, Isaiah, was diagnosed with autism at age three. Like many autistic children, he often suffered from sensory overload-- simple sensations could overwhelm him. The ocean was the one place where he seemed to find respite. A former competitive surfer, Izzy hit upon an idea--with Isaiah on the front of his surfboard, and Izzy steering from the back, the two spent the day surfing together. Surfing had a profound impact on Isaiah. Israel and Danielle decided they wanted to share this unique therapy with other autistic children. They began to host day camps at the beach where autistic children and their families could be exposed to a completely new experience of surfing. Each year, Surfers Healing hosts more than 3,500 autistic children for complimentary surf camps held across the country from Malibu and Doheny Beach in California to Wrightsville Beach, NC and Toronto, Canada.
About The Ritz-Carlton, Laguna Niguel
The Ritz-Carlton, Laguna Niguel premiered as the first luxury resort along coastal Orange County in August 1984. Today, the resort is a re-imagined surfside retreat that awakens guests' senses with its unique ocean-front setting and remarkable service heritage. The resort is the premiere destination for travelers who desire a playful approach to Southern California luxury. The resort has been the recipient of many awards over the years, but is proud to boast earning AAA Five Diamond status for the 28th year, the longest in California. The resort offers many extraordinary luxury experiences including Raya, enoSTEAK, 180blũ, The Market Place, Bar Raya, The Spa and the Eco-Adventure Center. For more information or reservations call 800-241-3333, the hotel directly at 949-240-2000, a travel professional or visit the web site at http://www.ritzcarlton.com/lagunaniguel
About The Ritz-Carlton Hotel Company, L.L.C.
The Ritz-Carlton Hotel Company, L.L.C. of Chevy Chase, Md., currently operates 80 hotels in the Americas, Europe, Asia, the Middle East, Africa, and the Caribbean. More than 30 hotel and residential projects are under development around the globe. The Ritz-Carlton is the only service company to have twice earned the prestigious Malcolm Baldrige National Quality Award which recognizes outstanding customer service. For more information, or reservations, contact a travel professional, call toll free in the U.S. 1-800-241-3333, or visit the company website at http://www.ritzcarlton.com. The Ritz-Carlton Hotel Company, L.L.C. is a wholly owned subsidiary of Marriott International, Inc.