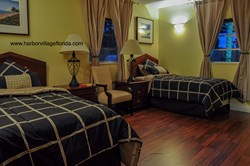 "At Harbor Village, we recognize how destructive a heroin dependency can be and provide each client with a personalized program that allows them to recover," said Robert Niznik, Harbor Village
Miami, Florida (PRWEB) August 21, 2013
According to Fox News (8/1) in their news story titled, Dr. Manny: Heroin on the rise: cheap, available and out of control, that heroin use is rising rapidly in the United States. According to the Substance Abuse and Mental Health Services Administration's (SAMHSA) National Survey on Drug Use and Health, more than 600,000 Americans admitted to using heroin each year between 2009 and 2011. From 2002 to 2005, fewer than 400,000 Americans used heroin each year.
Heroin abuse is just one of the addictions treated at Harbor Village, a 24/7 professionally supervised detox center. Located in South Florida, the facility provide private drug rehab with upscale accommodations including a beautifully furnished suite with television and headphones, 30,000 square feet of outdoor lounge area, spa, salon, massage and acupuncture services, nutritious, gourmet dining and an individualized plan that is designed for each client's specific needs.
According to Dr. Manny: Heroin on the rise: cheap, available and out of control, heroin use is rising at such high rates because it is so available, cheap at about $8 to $10 a bag, and it is easier to obtain than prescriptions.
A powerful drug made from morphine, heroin comes from the poppy plant – which users snort, smoke or inject. Side effects can be quite severe. Users may experience death from overdose, miscarriages, heart infections, and an increased risk for infectious diseases like HIV/AIDS and hepatitis, according to the National Institutes of Health.
Afghanistan and South America are the main suppliers of heroin to the United States.
"Taking heroin can quickly escalate until you have lost everything. At Harbor Village, we recognize how destructive this dependency can be and provide each client with a personalized program that allows them to recover," said Robert Niznik, Harbor Village CEO.
For more information, visit: http://harborvillageflorida.com/ 
or call the 24/7 hotline 1-855-338-6900.
Media Contact: 
Robert Niznik 
Harbor Village 
Miami, FL 
305-999-5728 
robert(at)harborvillageflorida(dot)com