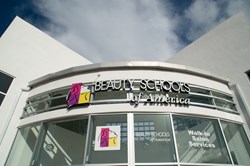 Our goal is to keep smiles on the children's faces and help them start the school year on the right foot.
Miami, FL (PRWEB) August 16, 2013
Beauty Schools of America® is providing services and supplies for the Miami's children in need. This event, in conjunction with the Progressive Firefighters, is focused on helping local children get a fair start to their school year.
In addition to school supplies and gifts for the children, BSA will also provide free salon services for the parents in attendance. With complimentary hair service, nail polish and more, BSA will help to get the whole family ready for a great start to the school year.
"We are honored to again be apart of this event, helping our community means so much to us," said BSA Director of Operations Jeff Gonzales. "Our goal is to keep smiles on the children's faces and help them start the school year on the right foot."
The Back to School Drive will be held on August 15, 2013 from 9:00 am to 2:00 pm. The location is the Joseph Caleb Center at 5400 NW 22nd avenue Miami, FL 33142. This event is open to the public; to learn more please visit BSA's Facebook page at [http://www.facebook.bsafans or contact BSA at info(at)bsa(dot)edu.
The Coral Springs Schools, Inc. d/b/a Beauty Schools of America® (BSA) opened its first campus in Margate, Florida in 1989. The school has successfully expanded to a total of 5 locations throughout South Florida, making it one of the largest cosmetology schools in Florida. All campuses are situated in vastly diverse communities, basking in the rich variety of students and residents in the area. BSA is licensed by the Commission for Independent Education (CIE)/Florida Department of Education (DOE), accredited by the Council on Occupational Education (COE) and has been one of five schools across the country to meet the standards of the International Therapy Examination Council (ITEC), which provides certification in over 38 countries. BSA currently offers an array of beauty and spa related programs and our curriculum continues to grow as the industry evolves.
For more information, please contact info(at)bsa(dot)edu.