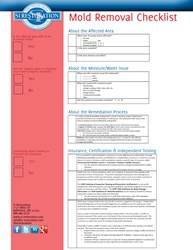 Mold colonies grow by eating away at organic materials which means hardly anything is off limits to the pesky toxic fungus...mold can be just as dangerous as a five-alarm fire.
Mount Laurel, New Jersey (PRWEB) August 16, 2013
Residential and commercial property owners typically deal with a laundry list of potential hazards that threaten their most valuable assets on a regular basis. Theft, fire, flooding, and storm damage are very real dangers that cross the minds of home and business owners every day. While these hazards can cause extreme loss of property and life, perhaps even more dangerous are the threats that invade a home or office silently and undetected.
Mold is indeed one of these silent threats. While mold growth is present everywhere in the environment – both indoors and outdoors – mold found growing inside a home or business is usually toxic with the potential of creating many problems. Mold colonies grow by eating away at organic materials which means hardly anything is off limits to the pesky toxic fungus. Carpets, padding, wood support beams and studs, drywall, insulation, and furniture are just some of the substances mold can infect and ruin. Add on the potential health risks it can cause to a property's occupants and mold can be just as dangerous as a five-alarm fire.
Mold remediation experts SI Restoration, servicing their community with healthy and safe mold removal service since 1989, have published a series of interactive visual guides for home and business owners who need guidance with property restoration. Their latest publication, the Mold Removal Checklist, streamlines every possible question a property owner must ask contractors while shopping around for the best service available.
The Mold Removal Checklist is a simple, easy to use interactive guide that allows property owners to educate themselves on what really matters when it comes to hiring a mold remediation specialist. With a market over-saturated with a who's who of contractors with different levels of experience, skill, and customer service, SI Restoration makes it easy for property owners to come out of the dark by shedding light on the importance of a quality mold remediation service provider.
First, the property owner must educate themselves on the affected area. Is the area climate controlled? Can workers properly access the area to perform proper remediation? These are the types of questions that often go unanswered when shopping for a mold removal contractor.
Next, the property owner must know where the moisture or water issue stems from and whether or not the issue has been resolved. One of the most frequently asked questions about mold is, "What makes the toxic fungus grow in a home or business?" The number one reason is moisture. While humidity and the lack of exposure to light also make particular areas like attics, basements, and garages more susceptible to mold growth, the bottom line is that the fungus simply cannot grow without a moisture or water source.
Home and business owners must ensure that their water problem is solved, or at least identified, before contacting a mold remediation service. Otherwise, no matter how good a contractor may be, or how much money the project may have cost, mold will return if the moisture issue has not been resolved and a water damage service did not complete the job properly.
Formalities come into play as property owners must check the credentials of their contractor and their own insurance policies before signing on the dotted line.
Mold removal requires a particular type of insurance in order for work to be properly covered. A general contractor's insurance policy will not protect the consumer should something go wrong during mold remediation. It would not be unwise, or too tacky for that matter, to demand to see a certificate of insurance from the mold remediation contractor of choice. Once the certificate is received, be sure to check that the policy covers environmental pollutants such as mold.
Next, anyone with a handsaw and a trash bag can enter a property and "remove mold" from the premises. To ensure safe and healthy mold removal, technicians must be certified. The Institute of Inspection Cleaning and Restoration Certification (IICRC) is a third-party, non-profit entity that governs and regulates many aspects of the restoration industry. Mold contractors should not only be certified through the IICRC, but they should also adhere to the IICRC S520 Guidelines for Mold Removal.
Lastly, property owners should check their home or commercial insurance policies to see if mold remediation is covered. While not all mold removal costs can be covered, it does not hurt to try.
Armed with the right tools like the Mold Removal Checklist and, more importantly, the knowledge to choose a reputable contractor, the protection and safety of a property's inhabitants is back in the rightful hands of home and business owners.