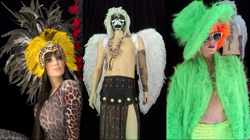 New York, NY (PRWEB) August 16, 2013
Abracadabra NYC is pleased to announce they are hosting a Customer Appreciation Week August 19-25. This is their first year holding an appreciation event. They have also received inventory for Burning Man and Electric Zoo.
During Customer Appreciation Week, Abracadabra customers will be able to participate in activities planned for each day. Abracadabra will offer discounts, free sunglasses and tattoos. Customers will also be treated to free Italian ice and ice cream sandwiches. "We want to give back to our loyal customers," said Robert Pinzon, owner of Abracadabra NYC.
Abracadabra is also excited to announce that they have received new inventory for Electric Zoo and Burning Man, both events coming up at the end of August.
The shipment for Electric Zoo, New York's Electronic Music Festival over Labor Day weekend at Randall's Island Park, includes neon accessories, glow-in-the-dark accessories and brightly colored glasses and wigs.
The shipment for Burning Man, the annual gathering of a community of artists, performers and active participants in Nevada's Black Rock Desert, includes El wires, neon makeup, colored contacts, glow-in-the-dark accessories and pyrotechnic tricks and equipment. Abracadabra NYC has been focusing on getting specific inventory to meet New York City's demand for Burning Man and Electric Zoo accessories.
Stop in to Abracadabra to check out their new inventory and during Customer Appreciation Week to enjoy discounts, activities and freebies August 19-25.
About the company:
For over 25 years, Abracadabra NYC has been serving loyal customers, becoming the premier source for all things related to costuming – costume rentals, custom costume design, special effects/ theatrical makeup and application, wigs, hats, shoes, novelties, masks, props, magic tricks and supplies, and hair goods. Abracadabra NYC's commitment to keeping up with the times and trends has always been its strongest asset and has been the source of its growth and expansion. Abracadabra NYC offers a wide selection of rental and purchase costumes and props, a make-up section to rival the big names, and a magic shop with an on-site experienced magician. Abracadabra NYC has worked with clients ranging from Viacom (MTV, VH1, Comedy Central, Spike TV), ABC (Good Morning America, The Chew), NBC (Saturday Night Live, Celebrity Apprentice, Jimmy Fallon), and College Humor to name a few. Abracadabra NYC is a household name in New York City and the Tri-State area. They are well known for the quality of their costumes and the variety of their inventory. At Abracadabra NYC, they offer the largest selection of novelty items for every holiday, masquerade, crawl and luau. Visit their website for more information, http://www.abracadabrany.com/ .