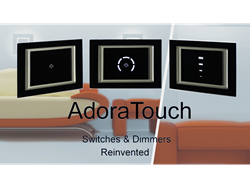 San Diego, CA (PRWEB) August 18, 2013
Aris Infosoft, a San Diego based startup launches AdoraTouch on Kickstarter.com. AdoraTouch has a range of touch based electric Switches and Dimmers, which can also be controlled using a smart phone.
AdoraTouch Switches are available with a variety of power saving features like a built in timer, light sensor, motion sensor etc, along with the Touch sensor. These switches can be used to control light bulbs, fans and other electrical equipments.
AdoraTouch Dimmers are available in the form of a Wheel and a Slider. These Dimmers can be used to control the dimming of a bulb or the speed of a fan.
Switches and dimmers can be remotely monitored and controlled by a smart phone from anywhere, anytime. The smart phone application allows users to control multiple switches and dimmers, with a single touch. Users can create and recall different scenarios like movie time, vacation, party etc.
Users can also opt for standalone switches and dimmers, without the smart phone control.
Designed to replace the conventional electric switches and dimmers, all the Adoratouch products comes with a pleasant user interface, power saving features, customizable faceplates, modular construction and a choice of standalone or connected switches.
"We are excited to launch our products on Kickstarter," said Raj Bangalore, creator of AdoraTouch. "We believe these connected switches are going to replace the conventional electric switch."
Please visit http://www.adoratouch.com to find more information, product videos and pictures.
About Aris Infosoft
Aris Infosoft was founded with a vision of creating connected products which deliver immense value to customers. Aris develops and delivers products, platforms and services which will form the building blocks of the "Internet of Things". Aris Infosoft is based out of San Diego, CA with a development center in Bangalore, India.