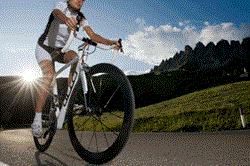 Berkshire, UK (PRWEB UK) 20 August 2013
In spite of the widely reported dangers of cycling on British roads, half (50%) of cyclists admit they never wear helmets, and only 13% always wear high-visibility clothing, according to research by the specialist bicycle insurer Protect Your Bubble. Almost half (46%) of bike owners do not have working lights on both the front and back of their bicycles.
Only about a quarter (26%) of cyclists are consistently safety conscious, saying they always wear helmets, with women (28%) more likely to than men (25%). However, women (10%) are far less likely to cycle with appropriate high-visibility gear than men (16%).
Worryingly, more than a third (36%) of adults would cycle after drinking alcohol. Of these people, half would cycle after two drinks or more and 16% after three drinks or more. Men (42%) are far more likely to drink and cycle than women (28%).
Meanwhile, one in seven (14%) have listened to music on smartphones, iPods and MP3 players whilst riding bicycles and 7% have used mobile phones at the handlebars, distracting them from the road.
So it may not come as a shock that almost a fifth (17%) of cycling Brits have been knocked off their bicycles – mostly by motorised vehicles – with that figure rising to 21% for cyclists in London. UK males are far more likely (22%) to be knocked off their bikes than females (12%).
By contrast, 92% of cyclists say they signal before they turn and 88% claim they've never jumped red traffic lights.
Stephen Ebbett, director of Protect Your Bubble, comments: "Cyclists who don't wear helmets and don't make themselves as visible to other traffic as possible really are playing two-wheeled roulette.
"The research shows that women tend to be more safety-conscious cyclists than men, and are less likely to be knocked off their bikes. That's no coincidence. A bike is no match against a car or a lorry, so it's vital cyclists take every possibly safety precaution. While specialist cyclist insurance like Protect Your Bubble can cover your bike against accidental damage, theft and vandalism, sadly it cannot limit the damage to a cyclist involved in an accident."
— ENDS —
Notes To Editor:
The specialist bicycle insurer Protect Your Bubble surveyed more than 1,000 people.
About Protect Your Bubble
Online insurer Protect Your Bubble offers comprehensive cover at fantastic prices. Its expanding product range includes low-cost insurance for gadgets, pets, bicycles, travel, car hire and cosmetic damage to cars. Bicycle insurance starts from as little as £2.19 per month and excesses from just £25. Policies cover theft (new-for-old replacement on theft claims for bikes up to three years old), accidental damage and vandalism. Optional European cover is available, and there's a multi-bike discount.
For more information: http://uk.protectyourbubble.com/bicycle-insurance/.