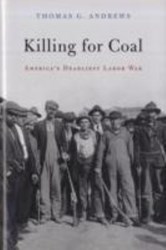 Pueblo, CO (PRWEB) August 19, 2013
Pueblo Archaeological and Historical Society and Pueblo City-County Library District present Thomas G. Andrews. Andrews specializes in the social and environmental history of the Rocky Mountain West. The presentation is Thursday, Sept. 5 at 7 p.m. at the Rawlings Library, 100 E. Abriendo Ave., Pueblo, CO 81004.
Andrews will discuss his first book, "Killing for Coal: America's Deadliest Labor War." The book constitutes the first full-fledged environmental history of labor struggle. Taking as its point of departure the spiraling violence between coal miners and mining companies during the Ludlow Massacre and Colorado Coalfield War of 1913-14, the book probes the origins of fossil fuel dependency in the American West, the role of workplace environments in shaping mine worker solidarity and the coalescence of migrant laborers from more than thirty nations into a militant fighting force.
"Killing for Coal" has been awarded the George Perkins Marsh Prize by the American Society for Environmental History, the Vincent DeSantis Prize from the Society for the History of the Gilded Age and Progressive Era, the Caroline Bancroft Prize in Western history from Denver Public Library, the Bancroft Prize from Columbia University and other honors. This presentation is in conjunction with the Ludlow Centennial Commemoration.