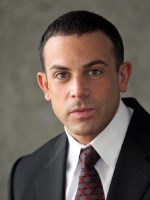 The application of the 1031 Exchange process hasn't been utilized to the fullest, and we're making it a priority to apprise all of our clients of this useful tool for acquisitions other than real estate
Woodland Hills, CA (PRWEB) August 19, 2013
"Business owners often overlook applying the benefits of the 1031 Exchange process to scenarios other than real estate property and investments," notes Kevin M. Levine,Executive Vice President of Peak 1031 Exchange Inc. (http://www.peakexchange.com). "In a recent transaction we demonstrated how the principles of the exchange process could be applied involving a helicopter transaction to effectively defer taxes for one of our investors." Levine is currently building awareness to new and existing clients that Peak Exchange, Inc. can be utilized as a trusted resource specializing in all types of deferred exchanges, not just limited to residential and/or commercial real estate.
"The application of the 1031 Exchange process has not been utilized to the fullest, and we're making it a priority to apprise all of our clients of this useful tool for acquisitions other than real estate," continues Levine. Businesses can use provisions of this section of the tax code to exchange non-real estate assets, including trucks, trailers, rail cars, aircraft, and other personal property. When approached by a client to determine the feasibility of a like-kind exchange to acquire a new helicopter, Peak 1031 Exchange, Inc. was able to step in as qualified intermediary for the transaction. 1031 exchanges allow for proceeds received from the sale of property to be reinvested in similar property within a 180-day period. Levine feels it's important to note that exchanges for non-real estate related assets adhere to much stricter guidelines. "Whereas what qualifies for a purchase with proceeds from a sale of real estate does not have to be the exact same type of property," Levine explains, "the laws are much more stringent with other types of assets." In their most recent aircraft transaction, the property both sold and purchased had to be of like-kind or like-class to qualify for the delayed exchange.
Peak 1031 Exchange, Inc.'s staff of qualified intermediaries came to the firm with a strong base in facilitating real estate as well as non-real estate exchanges, so handling the current exchange for the client was well within their range of expertise. "It's great to have a team in place well-versed in all property types that qualify under the provisions of the 1031 Exchange Code. We see this as an outstanding opportunity to provide another level of value-added service to our loyal client base, and further establish ourselves as a dependable partner in deferring capital gains taxes."
Peak 1031 Exchange, Inc. is a leading national provider of tax-deferred 1031 exchange services, specializing in all like-kind transactions including Simultaneous, Delayed, Reverse, Improvement and Personal Property exchanges. It is part of the Peak Corporate Network (http://www.peakcorp.com), a brand representing a group of entities providing a comprehensive array of commercial and retail real estate services nationwide including mortgage lending, loan servicing, short sale services, foreclosure services, insurance, real estate brokerage and escrow services.