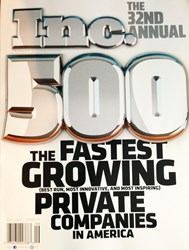 Even our hometown San Francisco - a place once known for the casual jeans & hoodie look of mid 20s start-up entrepreneurs - has experienced a resurgence of dapperness
San Francisco, CA (PRWEB) August 19, 2013
Bows-N-Ties.com, an online necktie retailer, just received the news to be featured on INC Magazine's exclusive INC500 - a list of the 500 fastest growing, and most innovative companies in America. Founder of Bows-N-Ties, Hendrik Pohl, attributes the company's record sales not just to their quality products and services, but mostly to the growing popularity of formal menswear.
"Today men cares much more about dressing well than they did in years prior", says tie aficionado and Bows-n-Ties founder Hendrik Pohl. "Even our hometown San Francisco - a place once known for the casual jeans & hoodie look of mid 20s start-up entrepreneurs - has experienced a resurgence of dapperness." says Pohl.
Bows-N-Ties is not the only retailer that has witnessed the growing demand for formal menswear pieces, and VCs have taken notice and want in. By the dozens have menswear retailers received Venture Capital funding in the past 12 months. Most notably are bespoke tailoring services like Indochino, Arden Reed, as well as J.Hillburn - who combined have received combined funding in excess of $25 million.
While Bows-N-Ties is not actively seeking funding, the retailer is committed to re-invest much of its earnings to secure further growth. "While we are celebrating to reach this big milestone of making it onto the INC500, we must not take our eyes of the ball", explains Pohl. "Competition is sprouting up everywhere. There is more competition than ever before. Everyone here at Bows-N-Ties knows how important it is to further build on our competitive advantage: offering very high quality products and going beyond the expected in terms of customer service."
To get in touch with Bows-N-Ties regarding this story, please contact the company's Public Relations Editor in Chief, Ashley Child at 415-800-8322 or on Twitter @BowsNTies