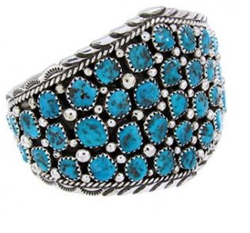 (PRWEB) August 16, 2013
The Southwest United States features a long-standing history of Southwest jewelry, and provides great resources pertaining to Native American culture. Southwest tribes have passed down many jewelry design techniques, and have provided modern culture with both artistic styles and beautiful jewelry.
Now, a brand new website is taking an in-depth look at the beauty and historical elements associated with Southwest jewelry designs.
"Many of today's talented artists have obtained their skill through a long history of jewelry making," said SouthwestJewelryDesigns.com spokesperson Ben Forester. "Each Native American tribe has provided modern artists with information and techniques, and has contributed distinct characteristics applicable to the wide variety of Southwest jewelry designs."
The Zuni people have embraced a wide spectrum of colors, and have provided artistic virtues to the history of Southwest jewelry designs.
"As legend tells, a Zuni woman was once approached by both a parrot and a crow," says Forester. "Both animals wanted to live in the tribe, among people. But, the woman could only choose one of them. Both animals presented her with an egg to help her choose. In the end, the woman chose the crow. She was drawn to its turquoise-colored shell, and—to this day—the crow still flies across Zuni lands, and perches on their roofs."
While the Zuni have provided much for the history of Southwest jewelry designs, the Navajo have directly contributed artful renditions and crafting methods to the creation of jewelry, and were the first Native Americans to work with silver. It's believed a Spaniard blacksmith trained a Navajo man in silver-working, and brought about a new era within the Southwest.
"Southwest necklaces created with Navajo style often feature gemstones set within sterling silver," said Forester. "The silver is often molded to reflect symbolism and imagery pertinent to the tribe's corresponding beliefs and religious virtues."
Many Southwest tribes have designed rings, necklaces and earrings in various styles, and reflect the various aspects of cultural beliefs and virtues held by Native Americans.
For more information, please see SouthwestJewelryDesigns.com.