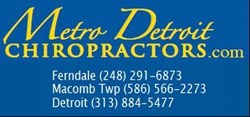 While your chronic back condition may never fully reverse, without treatment it can lead to further damage to surrounding nerves, joints, ligaments, and muscles leading to increased pain level.
Macomb Township, Michigan (PRWEB) August 17, 2013
Do you have chronic back pain? Do your muscles sometimes spasm making it difficult for you to go about your daily life? Do you take over the counter or prescription medications that help relieve the pain, but only offer temporary relief because they are designed to mask your pain and not fully address the source of your pain? If so, Chiropractor Christopher McNeil may have some answers for you.
Whether your back pain is sporadic or chronic, it can have a significant impact on your life and can keep you from doing many of the things you love. "There is no reason to prolong your suffering when Chiropractic Therapy has many solutions to ease your back pain," says Christopher McNeil, Macomb Township Chiropractor. First, let's take a look at what causes back pain, and then we will discuss how chiropractic care can alleviate your spasms and pain by going directly to the source of your discomfort.
What Causes Back Pain
If you felt fine yesterday but this morning woke up with a stiff neck or back and are wondering where it came from or why your chronic back pain won't it go away, there are two primary causes that lead to your sporadic or daily discomfort:
Minor Trauma—Pain classified as minor trauma can be the result of repetitive movements that lead to discomfort and wear or tear. This could be something as simple as the poor posture while at your desk at work, a sport you play that requires repetitive motion, or even sleeping in a jarring position for too long causing you to wake up with spasms and pain.
Major Trauma—Pain classified as major trauma could be the result of a fall or an accident. Even if you are young and healthy, slipping and falling on the ice or slipping and falling in the shower can cause stress to your muscle, nerves, joints, and discs. Car accidents are also a common cause of major trauma. "Even low-speed impact can jar your body and create unnatural rapid movements that result in back and neck pain" explains Chiropractor Christopher McNeil of Macomb Township.
How Does Chiropractic Care Address Pain?
"Chiropractic care at Metro Detroit Chiropractic goes far beyond chiropractic adjustments. We use a wide range of therapies that work together to alleviate pain and pressure to allow your body to heal and repair," says Christopher McNeil Chiropractor, Macomb Township. "We offer solutions that address the specific source of your pain opposed to short term solutions that only mask your pain. Our goal is to relax your muscles, unlock your joints, release your nerves, and allow fluids into your irritated discs," explain Dr. Christopher McNeil, Chiropractor.
Below are our most common therapies:
Ice Therapy—Ice therapy can be used to relive your back pain by flushing out inflammation.
Heat Therapy—Heat can be used to relax your muscles making them more receptive to other therapies.
Traction—Traction is used to stretch and open your discs and is often used for disc bulges and herniations of the disc.
Electrical Stimulation—This therapy utilizes a mild electrical currents to stimulate your muscles and is effective in reliving muscle spasms and tension.
Ultrasound Therapy—Most often, when we think of ultra sound, we think of its diagnostic and visual abilities. When we use ultrasound therapy to treat pain, we use it for entirely different purposes. We have a small wand we use to deliver sonic waves that create vibrations and heat in your soft tissue. This will relax and stretch your tight muscles.
Cold Laser Therapy—If you have injured areas that need to repair and heal, cold laser therapy will target the specific areas to speed up your healing process.
Spinal Adjustments—Spinal manipulations refer to the process of gently moving the bones in your spine to positions that relive pressure and pain and restore your range of motion. It can take several adjustments for your bones, muscles, and tendons repair, relax, and retrain themselves to stay in alignments that will offer pain relief.
Can Chiropractic Therapy Address Chronic Back Concerns?
If you suffer from a herniated disc, sciatica, scoliosis, or a long-term injury or condition that is not reversible, chiropractic therapy can help you to maintain your pain levels and achieve maximum amounts of comfort and mobility. "While your chronic back condition may never fully reverse without treatment, it can lead to further damage to surrounding nerves, joints, ligaments, and muscles leading to increased pain levels," says Macomb Township Chiropractor, Christopher McNeil.
Other Benefits of Chiropractic Care
Back pain is a main motivator for many of our patients seeking chiropractic therapy, but we are able to treat you for many other health conditions and concerns. We also address neck pain, sports related injuries, pregnancy related back discomfort, and we provide treatment after car accidents. We can treat other areas of your body other than your back and neck such as your ankle, knee, hip, and shoulder. Chiropractic therapy is also effective treatment for headaches, allergies, increases circulation, and proper spinal alignments boosts your body's immunity.
To learn more about how chiropractic therapy can make a difference in your pain, mobility, and overall health. Contact Metro Detroit Chiropractic or visit the following links:
http://www.dr-christopher-mcneil.com/
http://metrodetroitchiropractors.com/meet-dr-mcneil/
http://www.wegotyourback.net/aboutus.html#.Ug5tGm13ekw
https://twitter.com/DrMcNeil_Macomb
https://plus.google.com/110711671166188899228/posts