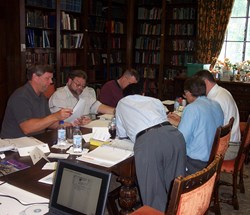 QRM is a great place to start your improvement journey or use it to take your existing improvement initiatives to the next level.
Dayton, OH (PRWEB) August 31, 2013
Tempus Institute and the Ben Graham Corporation, both from the Dayton, OH area, are teaming up to bring you an information-packed day of immersion into strategy and methods for business simplification.
The Workshop Will Be Presented in Three Segments:

DESIGN: Creating an Effective Operations Strategy for Products and Services
It is vital that companies develop an operations strategy to assure the success of their business objectives. Companies often use popular techniques to lower direct costs but find that they are not achieving the results they require. Bill Ritchie will begin the workshop by defining an Operations Strategy, explain the key elements of a successful strategy, and demonstrate why it is important.

CONTROL: Learn Exactly How Your Business is Operating
Ben Graham will introduce the Graham Process Mapping method, the only record-based mapping method that displays all the documents in a process and their relationships. Ben will demonstrate how Graham Process Maps give people a new perspective on the work they do, helping them see how their work fits into a larger picture. Graham Process Maps are the foundation of the Graham Process Improvement Method.

IMPROVE: Implement a Proven Strategy of Success Through Total Lead Time Reduction
In this session, Bill Ritchie will introduce Quick Response Manufacturing (QRM) as an organization-wide strategy to improve profitability, cash flow, and market share by reducing total lead times across the enterprise. QRM can help companies take their products to market more quickly and compete in a rapidly changing manufacturing arena. Bill has helped numerous organizations improve their operations and comments, "QRM is a great place to start your improvement journey or use it to take your existing improvement initiatives to the next level." While QRM has its roots in manufacturing it has proved to be an effective tool for front office process improvement as well.
Workshop Leaders
Bill Ritchie, President of Tempus Institute, started Customer Chain Consulting LLC in 2007 to help manufacturing companies benefit from Quick Response Manufacturing (QRM). Since that time he has worked with companies of all sizes to understand the need for an operations strategy and launch lead time reduction programs with QRM. Bill is a certified trainer in Quick Response Manufacturing (QRM) and is actively involved with the Center for QRM at the University of Wisconsin. Prior to becoming a consultant, Bill was a General Manager, Vice President of Operations, and Plant Manager for several industrial businesses including Boston Gear, Cone Drive Textron, and Union Pump Textron, where he was named Six Sigma Champion of the Year for the Industrial Group.
He founded Tempus Institute in 2012 to provide training in Quick Response Manufacturing throughout the country. He has spoken to groups throughout the U.S. and in Europe and is known as an enthusiastic and effective speaker who draws on his extensive experiences to illustrate his message. He holds an MBA and a BA and MS in economics and has completed executive programs at Wharton, the University of Chicago, and with the Harvard Business School faculty. In addition, Bill was trained in Quality Transformations by Edwards Deming and Constraint Theory by Eli Goldratt, author of The Goal.
Ben B Graham has been helping people make sense of their processes for over thirty years. He is President of The Ben Graham Corporation and author of the book 'Detail Process Charting: Speaking the Language of Process' published by John Wiley Publishers. His company pioneered the field of business process improvement, and since 1953 has provided process improvement consulting, coaching and education services to organizations across North America. Ben has worked with many organizations to fix process-related problems, build process libraries and develop effective, process-focused, continuous improvement programs. His organization publishes Graham Process Mapping Software, which is designed specifically for preparing detail process maps. More information about the software is available at http://www.processchart.com.