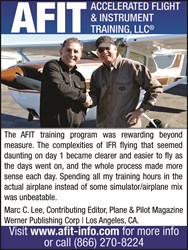 We believe there is no substitute for actual. The antiquated technology of portable simulators used by some training organizations, reinforces our core belief that actual flying conditions cannot be replicated
Newport Beach, California (PRWEB) August 19, 2013
AFIT known and referred to as "The Most Respected Name in Aviation" and the nation's largest and most effective Accelerated Flight Training Organizations in the US, today announced the opening of a new location in Rexburg, Idaho managed by Senior Instructor Mr. Todd Gilbert. The company also announced plans to hire 2 additional Senior Flight Instructors in 2013 in Texas and is focusing its recruitment efforts on identifying Senior Flight Instructor Candidates for High Performance and Cabin Class aircraft (especially the Cirrus SR-22 with Perspective Panel) and who possess certain critical classroom training skills which are deemed essential to address our increasingly complex aircraft and training responsibilities across the country.
"We are delighted to have Mr. Gilbert managing this new location" said Tony P. Montalte, President & General Manager. Mr. Gilbert has been an aviation professional for over 26 years, An ATP/CFI/CFII/MEI with thousands of logged hours. Hundreds of hours of dual given in Cirrus SR-20 and SR-22, Perspective, CSIP Certified Flight Instructor. Training in Cirrus SR-20, SR-22 G3 Turbo with Avidyne Entegra Flight Display & Garmin 430/530 GPS Systems Training. C-TU206H with KLN 89/90B GPS, SIC: Citation I-501, Citation 550 Bravo, Citation V-560 with FMS Systems. C-TU210 Centurion, C-182RG, M20J-200, M20K-231, PA-44-180, PA-34-200T All types of operations in Cessna, Mooney and Piper Aircraft. Four years Part 141 Chief Flight Instructor.
Seventeen years corporate pilot operating C-TU210 Centurion, C-TU206G, C-TU206H and Turbo Cirrus SR-22 G3 aircraft. Flight training experience given with Garmin G1000 Perspective, Garmin G1000 Cessna Nav III system, Avidyne Entegra Flight Display and Garmin 430/530 GPS. Flight Experience in SEL/MEL Icing and X-Country conditions. Proficient in Operations of all Classes of Airspace. Also two years as SIC in Cessna Citations 501, 550 Bravo and 560 Jet Aircraft
Mr. Montalte states the decision to add an this new location was due to overwhelming demand from clients in that part of the country and the fact the Company continues to exceed its corporate and financial goals.
"We're seeing a number of positive indications that our clients are turning more to the latest Avionics and increasingly insist upon actual training without the use of our simulators. We believe there is no substitute for actual. The antiquated technology of "Portable Simulators" used by some training organizations, reinforces our core belief that actual flying conditions cannot be replicated. We understand the cost of flying continues to increase, however, savings realized using a portable simulator simply cannot compete with actual flying time under ATC control.
We're Nationwide" AFIT has 48 highly trained and licensed Senior Instructors located across the United States with heavy concentrations in California, Denver, Texas, Arizona, Utah and Florida, with enormous activity on the East Coast and throughout the Midwest specializing in High Performance aircraft and the G1000. All are "Full-Time" instructors dedicated to AFIT and its core focus of training PPL pilots to certification in 14 days and IFR pilots in 10 days with no prior training. In less time if some prior training has been achieved.
14 day Private Pilot Training courses are also available at many AFIT locations acorss the country.
Montalte states, All our training is important to the client and all clients receive One on One undivided attention each and every day, all day long.
He continued, "We value the trust that our clients have shown in us. On behalf of every AFIT member, Senior Instructor and employee, let me assure you that our company will continue to protect the principles of our profession, maintain the highest standards of excellence, and provide each client with the quality services they have come to expect and deserve from AFIT."
AFIT Accelerated Flight & Instrument Training is a a leading provider of Accelerated Flight Training Programs and professional consulting services to the General Aviation Industry, aircraft manufacturers, private companies, law firms, corporations, Doctors, athletes and government agencies. Our team of educated and experienced Senior Flight Instructors and technical specialists are recognized for excellence in service by local, national and international business communities.
Watch for us on "The Aviators TV Series"
For further information regarding Flight Instructor openings, Training Schedule Availability or client referrals, contact: Tony P. Montalte, President & General Manager, AFIT Accelerated Flight & Instrument Training, PO Box 9099 Newport Beach, California 92658 866-270-8224 or log on to http://www.afit-info.com/home.html