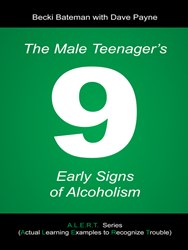 'My book doesn't simply warn readers about the perils of alcohol,' said Bateman. 'It gives concrete examples indicating how the disease manifests and progresses in young males.'
Syracuse, N.Y (PRWEB) August 19, 2013
Teenagers who drink heavily are more likely to cut class or skip school, perform poorly in school, take sexual risks, get involved in fights and theft and even commit suicide.
Author Becki Bateman decided that when nearly 18 million American adults have problems with alcohol, it's time to start tackling the problem earlier. With her new book, "The Male Teenager's 9 Early Signs of Alcoholism," she hopes to help parents, educators and communities identify the warning signs of a future alcoholic.
"My book doesn't simply warn readers about the perils of alcohol," said Bateman. "It gives concrete examples indicating how the disease manifests and progresses in young males."
An experienced educator and recovering alcoholic from an alcoholic family, Bateman also wrote a weekly column for her local newspaper that brings awareness to alcohol issues and presented at numerous alcohol and chemical dependency conferences making her well suited to warn teens and adults through her book. Her advice is practical and applicable.
"I made it easy to read on purpose," said Bateman. "There are definite warning signs for alcoholism. My book can tell you how to find them."
"The Male Teenager's 9 Early Signs of Alcoholism"
By Becki Bateman
ISBN: 978-1-4624-0420
Retail price: $8.99
Available at http://www.amazon.com, http://www.barnesandnoble.com and http://www.inspiringvoices.com/
About the Author
Becki Bateman has a B.S. in elementary education and a M.A. in reading. Bateman is also the author of "The Male Teenager's 9 Middle Signs of Alcoholism" and "The Male Teenager's 9 Late Signs of Alcoholism." She lives in Potsdam, New York.
###
EDITORS: For review copies or interview requests, contact:
Emily Wilson | 317-275-2057 | ewilson(at)bohlsengroup(dot)com
(When requesting a review copy, please provide street address.)