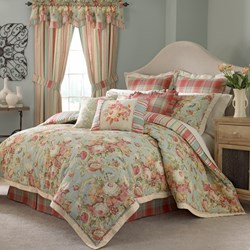 New York, NY (PRWEB) August 27, 2013
Luxury bedding has been known to possess a kind of muted, subdued appearance. These delicate colors allow the high-quality fabrics to speak for themselves. This year, however, many makers of luxury bedding are exploring current trends. Many companies have decided to experiment with a richer color palette and are not shying away from bold patterns.
Since the luxury audience has gotten younger, retailers have become more open to funky prints and contemporary graphics. This branch off from the norm has opened designers up to a wider breadth of fabric, and allowed for more options in terms of seasonality.
Waverly Bedding, known for its timeless patterns, has also taken advantage of new, fresher prints that give the bedroom an updated decorative flair. Pair these bold patterns with coordinating or complimenting window treatments, or allow the bedding to take the focus with more neutral window and pillow accessories.
In addition to the new colors and prints, luxury bedding makers have continued to explore with the ethnic chic trend which calls for vintage prints that pull from different cultures. These intricate patterns allow for a variety of fabrics and unique embroideries and are allowing designers to step outside of their traditional designs.
For tips and trend updates, visit Ellery Homestyles.