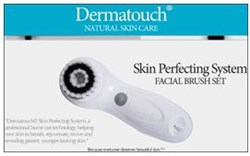 "The Dermatouch Skin Perfecting System is essentially a professional system that's designed for home use. It has a revolutionary way of helping our skin to breathe, rejuvenate, revive and appear younger looking," said Rena Revivo, founder and CEO
(PRWEB) August 16, 2013
HomeSpaCollection, an established online source for high-quality skin, body and hair-care products, is offering one of its best selling items at a staggering discount for a limited time. The Dermatouch Skin Perfecting System has become a top-selling product following its launch in 2012. According to Target.com, the system is the third best-selling skincare tool. Customers can find an exclusive discount on the Dermatouch system by visiting http://www.homespacollection.com and using code SKINBRUSHNOW; code includes free shipping and drops the price from $79.99 to $15.99.
Rena Revivo, founder and CEO of HomeSpaCollection, explained the promotion. "The Dermatouch Skin Perfecting System is essentially a professional system that's designed for home use. It has a revolutionary way of helping our skin to breathe, rejuvenate, revive and appear younger looking." The current discount drops the price to an unprecedented low.
HomeSpaCollection offers products supporting a range of skin conditions ranging from acne to anti-aging care to hand and foot scrubs, with a focus on products that are as environmentally friendly and natural as possible.
About HomeSpaCollection – HomeSpaCollection is a leading e-commerce store for innovative, high-quality skin, body and hair-care products. Established in 2007, the company was created as an additional channel to sell products that previously were available only in spas and high-end beauty retailers. HomeSpaCollection offers products for people with all kinds of skin types that are affordable, made with quality ingredients and available directly to consumers.