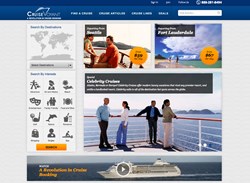 "It was our mission to build a website that would allow consumers to easily find and book premier cruise products online using our cutting edge technology." stated Brandon Simpson, Senior Web Developer
Fort Lauderdale, Florida (PRWEB) August 19, 2013
South Florida based cruise agency, Cruise Voyant, is pleased to announce their website has now added real-time access to all pricing and stateroom inventory from Norwegian Cruise Line, Disney Cruise Lines and Oceania Cruises. NCL, Disney and Oceania have certified Cruise Voyant's booking process and now all their sailings are provided on the CruiseVoyant.com website in real time search. By accessing this data, Cruise Voyant's next generation search engine is now able to combine this real time inventory and best price info with Cruise Voyant's proprietary interest index data to provide consumers with real time recommendations on cruises that may interest them.
CruiseVoyant.com's booking engine technology was built to show live stateroom inventory on the website, which sets them apart from the other online cruise agencies. The site provides consumers the ability to select any stateroom that is available from the cruise line and then gives consumers the opportunity to book it online immediately. Consumers can also reference Cruise Voyant's high resolution deck plans to help them associate their stateroom selection in reference to the location of other rooms and public areas aboard the ship.
"We are excited to add these cruise ships and their itineraries to our list of cruise products", stated Brandon Simpson, Senior Web Developer for Cruise Voyant. "It was our mission to build a website that would allow consumers to easily find and book premier cruise products online using our cutting edge technology." he added.
Norwegian Cruises includes 13 ships and 1552 cruises to choose from. NCL's itineraries encompass the globe and include popular destinations to the Caribbean, Hawaii, Europe, the Mediterranean and more. Disney is well known for its' family-friendly cruises with 4 ships to choose from and 428 sailings per year. Disney Cruises set sail from New York City, Port Canaveral, Galveston, Los Angeles, Seattle, Fort Lauderdale and Miami. Oceania Cruises offers guests one of the best values in upscale cruising. Oceania's fleet of warm and welcoming mid-sized luxury ships bring people together in a country-club casual atmosphere of sophisticated elegance. Oceania has 5 ships and 200 cruise departures per year visiting destinations that include Alaska, Asia, Australia, Caribbean Panama Canal, South America, and Europe.
Cruise Voyant now offers real-time search for 12 cruise lines and more than 11,000 cruise departures worldwide. Their search engine simplifies searches across multiple cruise lines, cruise ships, and destinations. Site visitors will also find great advice articles on family cruising, wedding cruises, singles cruises and more.
About Us
Cruise Voyant is a Fort Lauderdale based cruise agency that is revolutionizing the cruise booking process. Cruise Voyant solves many of today's most difficult booking issues by allowing visitors to view a historic look at how pricing has changed on a particular ship and sail date. Cruise Voyant also offers interactive cruise itinerary maps, and it provides tens of thousands of photos of ships and destinations worldwide. Cruise Voyant helps consumers easily find their dream vacation by empowering them with online advice and insights that will help them easily book and manage their vacation plans.