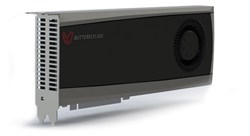 Each device will process 600 GH/s @ 350 w of power consumption. The product is being offered at $4,680 US Dollars which makes it the most cost effective miner in the industry.
Overland Park, KS (PRWEB) August 21, 2013
Butterfly Labs (BF Labs Inc.), the Kansas based leader in Bitcoin mining technology has announced its 2nd generation ASIC Bitcoin processor - the 4th bitcoin processor in its history. The new chip has been in quiet development for the last six months.
As the first company to introduce a 2nd generation ASIC chip, Butterfly Labs has leveraged its proven design to set an all new high mark in performance for the Bitcoin mining industry.
"We've learned a great deal with our first ASIC. After an initial delay, that processor has been shipping in volume for the past few months and is now powering the majority of the Bitcoin network. For this 28nm version, we were able to use our test bench data to make major optimizations in both speed and efficiency that would otherwise not be possible with a first generation design." remarked Butterfly Lab's chief ASIC engineer John Cheng. "Our deep involvement with the engineering team from Global Foundries has further allowed us to maximize our design for their advanced 28 nanometer process."
The first product using the new technology was also announced today. The 'Monarch' is a PCIe card optimized for large scale mining in data centers. Each device will process 600 GH/s @ 350 w of power consumption. The product is being offered at $4,680 US Dollars. This would make it the most powerful & cost effective bitcoin mining card offered by any company in the industry. Initial deliveries of the Monarch are slated to begin in December 2013.
The company is allowing existing customers to transfer any still undelivered back orders to the new higher speed technology, but they note that it would increase the wait time by several months and don't recommend it.
According to Jeff Ownby, Butterfly Labs VP of Marketing, "If employed today, each device would mine approximately 6 bitcoins every 24 hours. At the time of this writing, that's over $600 per day. However, it's important to point out that mining difficulty & bitcoin prices change with great volatility. We can only guarantee the performance specifications of our hardware, not the market value of mining with it."
Butterfly Labs will immediately accept placement in the queue through pre-orders.
To learn more about Butterfly Labs products, visit http://www.butterflylabs.com