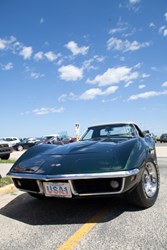 "The collector car hobby has deep roots throughout the Jersey Shore and we felt it was our duty to create a special feature that highlights the progress our policyholders and area residents," said Jill Bookman, CEO of American Collectors Insurance.
Cherry Hill, NJ (PRWEB) August 21, 2013
"Superstorm" Sandy's East Coast arrival in October 2012 brought with it the classic car hobby's single most devastating event to date. The National Insurance Crime Bureau reported that Sandy led to damage of more than 250,000 vehicles in 16 states; most claims occurred in New Jersey and New York. But Jersey Shore residents and visitors have made it clear that they're "stronger than the storm," and among them are some serious collector car enthusiasts. That's where American Detours (http://www.AmericanDetoursTV.com), a web series that pairs epic American roads with beautiful classic cars, comes in. The series will premiere two very special Superstorm Sandy Edition episodes to coincide with the one-year anniversary of Sandy's landfall. The episodes focus on recounting firsthand stories of Jersey Shore collector car owners as well as local businesses and communities greatly affected by Sandy. The classic car featured in the episodes was totaled due to the storm and is now back to its pre-storm glory. The result is a compelling video content that shows the passion collector vehicle enthusiasts have for the hobby and Jersey Shore residents have for the beloved area they call home (and home-away-from-home).
Sandy made landfall just 50 miles from the national headquarters of American Collectors Insurance, and the company has witnessed firsthand the resilience and passion of collector car enthusiasts with 40% of claimants buying back their damaged vehicles for the purpose of repairing and restoring them. In light of the fact that many of these vehicle owners also sustained extensive damage to their homes and daily drivers, this rate is quite telling: to dedicated enthusiasts, buying the salvage of your special car and restoring it back to its original condition is much preferred to losing a car that holds a lifetime's worth of restoration elbow grease, is a nostalgic high school ride, or was a prized family heirloom passed down from generation to generation.
At the heart of American Detours: Superstorm Sandy Edition episodes are the stories of collectors, how they came to connect with the classic car hobby, and how they've rebuilt their precious classics after Sandy. American Detours hosts Jael de Pardo (SyFy Network) and Jeff Glucker (Hooniverse.com) take a beautifully restored classic—a 1969 Chevrolet Corvette—out of the garage and onto the open road. Along the way, they meet other classic car owners who have successfully restored their damaged vehicles back to their pre-Sandy glory, plus Jersey Shore residents and business owners who have worked tirelessly to rebuild their communities.
"American Detours was inspired by our policyholders and the personal stories they've been sharing with us for nearly 40 years," said Jill Bookman, CEO of American Collectors Insurance. "The collector car hobby has deep roots throughout the Jersey Shore and we felt it was our duty to create a special feature that highlights the progress our Jersey Shore policyholders and area residents have made in the wake of Sandy. If anything, Sandy has showcased the passion of collector enthusiasts more than ever."
In addition to the Superstorm Sandy Edition, American Detours recently threw the public the keys to Season 2 and let them vote on which routes should be featured in upcoming episodes. The votes have been tallied and the scenic routes the American Detours crew will visit are:

Historic U.S. Route 6 Iowa: Pure American heartland.
Lake Tahoe: Referenced by some as the "Most Beautiful Drive in America."
Texas Hill County: Wide range of geology and culture from sophisticated Austin to remote and dusty ranches.
The special American Detours: Superstorm Sandy Edition will air October 2013, with Season 2 rolling out Spring 2014.
For the latest on American Detours and to view Season 1's episodes, visit: http://www.AmericanDetoursTV.com or via YouTube (http://bit.ly/14u8yEW).
About American Collectors Insurance
American Collectors Insurance is the nation's leading provider of collector-vehicle and collectibles insurance. American Collectors offers products through independent insurance agents, in partnership with several major insurance organizations, and direct to consumers. A wide range of collector vehicles qualify for American Collectors' program, from "brass and wood" antiques to street rods, exotics, modern classics, and more. American Collectors also offers all-risk coverage for a wide range of collections from stamps, coins and comic books to vintage wine, sports memorabilia and beyond.