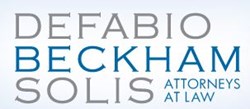 Miami, FL (PRWEB) August 26, 2013
All three of the Miami DUI lawyers at DeFabio, Beckham, Solis, P.A. have been chosen to serve as speakers for LawReviewCle's local CLE (Continuing Legal Education) webinar called "Over the Limit: Defending a DUI Case." This Florida webinar, which is scheduled for Aug. 27, 2013, is designed to help local criminal defense lawyers get started in handling driving under the influence (DUI) cases, according to the webinar's description on LawReviewCle's website. The firm's lawyers who will speak at the webinar include Joel DeFabio, Justin K. Beckham and Helmuth Solis.
The webinar is set to cover a broad range of DUI defense-related topics, which are categorized into the areas of the client interview, the basics of DUI science, the court process (step by step) and the DUI trial. Those who plan to take the webinar can learn about important topics such as the following: how to properly gather information related to DUI cases; the ethics of DUI advertising; how absorption factors into DUI test results; the best approach to handling the arraignment, the discovery process, motions to suppress, etc.; common DUI defenses, and much more, as noted by the webinar provider.
Attorneys DeFabio, Beckham and Solis are highly experienced lawyers who have received impressive professional accolades for their DUI defense and criminal defense services. Attorney DeFabio has more than 30 years of legal experience, during which he has obtained more than 50 "not guilty" verdicts. One of those "not guilty" verdicts was for "Liberty City 7" terrorist trial, which received national acclaim. He was given the "Against All Odds" award from the Florida Association of Criminal Defense Lawyers in 2007, and he was also named one of Miami's "Most Effective Lawyers" in the area of criminal justice by the Daily Business Review in 2008.
Working as partners, Attorneys Beckham and Solis were together successful in obtaining more than 50 DUI dismissals in 2010. They have both been named to the list of Rising Stars™ by Super Lawyers® Magazine for the legal practice area of DUI Defense. When Attorney Solis previously served as an Assistant State Attorney for the Miami-Dade State Attorney's Office, he went from being a DUI prosecutor to a DUI training attorney—a role in which he trained other lawyers about the law as it pertains to DUI cases.
DeFabio, Beckham, Solis, P.A. is a law firm that is truly local, as it only handles cases within Miami-Dade County, Fla. This gives the attorneys exceptional insight into how the Miami-Dade County courthouse works and how to best proceed with DUI charges within this county. The firm handles all types of DUI cases, such as those involving felony DUI charges, commercial driver's license DUI, out-of-state DUI, DUI manslaughter and much more. DeFabio, Beckham, Solis, P.A. can also help individuals who are accused of boating under the influence, or BUI. To learn more about the law firm and its team of dedicated attorneys, visit http://www.duimiamilawyer.com.