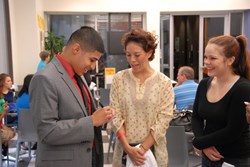 Houston, Texas (PRWEB) August 16, 2013
HOUSTON (August 16, 2013) – It's yours, "Go Get It" – that's the message from Houston's own hip-hop artist Baby Jay and Houston Community College. Working together, HCC and Baby Jay are letting the young people in the Houston area know they can follow their passion to change their future through education.
Baby Jay met and greeted fans Thursday in Neo's Café at 3100 Main. This young artist has dedicated himself to promoting dignity and respect in schools throughout the Houston area, the country and internationally. Baby Jay is the first and youngest rapper to receive the key to the City of Houston for his efforts. He has been officially inducted into the Latin Grammy's tour bus exhibit along with other top Latino acts.
"I'm grateful for this opportunity to be partnering with HCC, and I just want to say that this song is about real life experiences. I know that it will motivate many, many people out there to come to college," said Baby Jay. "This means a lot to me because I'm still a student myself. I go to school part-time and I know the impact that hip hop has, and that rap has on the students. That's why my message is about respect, hope, encouragement and never giving up. I want to keep pushing towards that because I know it's going to inspire a lot of people, and it already has."
Trustee Bruce Austin, HCC Board of Trustees Chairman, responded to Baby Jay's comments, saying, "I hope students get your message. You are giving out the message that we try to send; that education is almost everything."
Baby Jay's music is a driving force behind HCC's recruitment, retention and completion campaign. The campaign highlights HCC's innovative programs and course offerings that lead to high demand, high wage jobs today and in the future. For information on Baby Jay, please visit http://www.BabyJayMusic.com/.
"Our students overwhelmingly said we need to be in tune with them," added Renee Byas, HCC Acting Chancellor. "This is what is in tune with them. Baby Jay agreed to create the song for us to reach out to students to show them that we are actually concentrating on student success, graduation and completion. We are here for our students."
HCC sponsored and licensed the use of the song for radio and TV ad's to inspire, motivate and stimulate students to realize their full potential, and that it's never too late to get your college education to make your dreams become a reality.
HCC's total student experience kicked off Thursday with the premier of Baby Jay's new song, "Go Get It," during the fan meet and greet and introduction of the campaign to the HCC Board of Trustees at the HCC Administration building, 3100 Main.
-30-
Photo: Baby Jay signs his new CD for HCC students and fans.
HCC TV video package available for download at http://sites.hccs.edu/mediaroom/2013/08/hip-hop-artist-baby-j-delivers-positive-message-to-hcc-students/