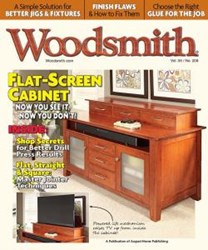 Having these woodworkers see the WhisperLift II integrated into such an elegant designed cabinet project is exciting.
Exton, Pennsylvania (PRWEB) August 20, 2013
Touchstone Home Products, the industry leader in flat screen TV lift cabinets, has just announced that its WhisperLift II TV Lift mechanism will be featured in Woodsmith Magazine's August/September issue, incorporated in an Heirloom Project of a flat-screen TV lift cabinet. Woodsmith Magazine is a publication of August Home Publishing.
Touchstone Home Products, the leading pioneer in the design and manufacture of TV lift cabinets, offers the WhisperLift II as a value priced TV lift mechanism, designed to meet the needs of Touchstone's cabinet customers, woodcrafters and A/V integrators. The WhisperLift II offers an efficient design, simple mounting and an easy to use RF remote control. Priced at an MSRP of $699, the WhisperLift II offers an unmatched combination of function and savings compared to any other flat-screen TV lifts.
"Touchstone's WhisperLift II has opened its own doors into the shops and workplaces of home and weekend woodworkers," said Frank Quinlisk, Touchstone Home Products' Vice President. "Having these woodworkers see the WhisperLift II integrated into such an elegant designed cabinet project is exciting for us."
Woodsmith's heirloom project is a beautiful cherry cabinet, featuring contemporary drawer pulls and knobs. With all the storage space and built-in TV lift mechanism, the cabinet design might look complicated, but don't be concerned. The cabinet case is built with an open back, which allows for easy installation of the lift mechanism. Plus, Woodsmith's detailed drawings, step-by-step instructions, and handy construction tips make this project go together in a snap. A complete set of plans is available at WoodsmithPlans.com.
The WhisperLift II is a culmination of Seven years of Touchstone's research and design, and is constructed from durable steel for strength and stability. The WhisperLift II measures 32" (H) x 10" (W) x 7" (D) and extends to a full height of 65" in under 30 seconds. Designed to support up to 60" flat screen TVs, the WhisperLift II holds televisons up to 100 lbs. The WhisperLift II is available at TouchstoneHomeProducts.com and various authorized dealer sites.
About Touchstone:
Touchstone is a leader and pioneer in the design and manufacturing of Theater Lift cabinets and mechanical TV lifts. Founded in 2005, Touchstone offers cabinets in contemporary, traditional, and transitional styles to fit seamlessly in almost any home. Bedroom-size TV lift cabinets accommodate flat panel televisions up to 45 inches, full-size cabinets will fit flat panel TVs up to 60 inches and mid-size cabinets up to 46 inches. Touchstone TV lift cabinets maximize space, enhance in-home entertainment experiences and provide added safety and security to any room in the house.
About August Home Publishing:
For more than 30 years, August Home Publishing Company has provided woodworkers, gardeners, cooks and everyone devoted to enhancing their homes with the tools, inspiration and practical how-to information they need to be successful in their creative endeavors.