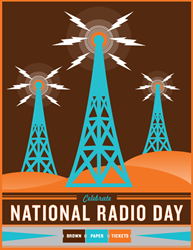 LPFM is an important and powerful tool for communities to communicate, cooperate, bond and thrive," said Sabrina Roach, Doer specializing in public interest media for Brown Paper Tickets and the director of the National Make Radio Challenge
Seattle, WA (PRWEB) August 16, 2013
Brown Paper Tickets is sponsoring and organizing a celebration of National Radio Day, Aug. 20, as a "last call" for nonprofits to begin a low-power FM (LPFM) radio application, as part of its National Make Radio Challenge, an initiative of the Brown Paper Tickets Doer Program for strengthening communities. More information can be found at http://community.brownpapertickets.com/Doers/radio.html .
Nonprofit applicants for the last frequencies available on the Seattle radio dial will share their plans for the airwaves at a free community lunch and cake-cutting celebration honoring National Radio Day, Aug. 20, at Jack Straw Productions from noon to 1:30 p.m. The Federal Communications Commission (FCC) is expected to license more than 1,000 stations nationally, from applications received during a once-in-a-lifetime, two-week window that will open Oct. 15. This is the last time that the airwaves in some of the nation's largest cities will be licensed to nonprofit organizations.
"Brown Paper Tickets' social mission is strengthening communities, and the company firmly believes that LPFM is an important and powerful tool for groups with a common purpose to communicate, cooperate, bond and thrive," said Sabrina Roach, Doer specializing in public interest media for Brown Paper Tickets and the director of the National Make Radio Challenge. The Not-Just-For-Profit ticketing company has donated 5 percent of all profits to charity for more than 10 years, and has invested in bringing awareness about the LPFM opportunity to nonprofits, giving guidance on how to fund a station and on how to successfully complete the FCC application.
The National Radio Day celebration is free and open to the public with registration at http://nationalradioday.brownpapertickets.com, or through Brown Paper Tickets' 24-hour hotline at 1-800-838-3006.
###
EDITOR'S NOTE: A nonprofit from your neighborhood or city may be in the process of applying for a low-power FM radio station in October. Please contact us if you'd be interested in locating one to feature an applicant from your area, or if you'd like to interview Sabrina Roach, director of the National Make Radio Challenge.