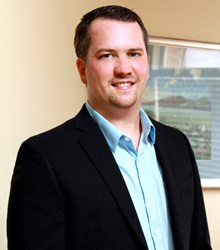 Dallas, Texas (PRWEB) August 20, 2013
Aaron Anderson was recently named Accumatch's first CEO and acting CFO beginning August 2013. Before making the move to Accumatch, Anderson worked at Brown & Brown from 2005 to 2013, most recently as the Chief Administrative Officer at a newly acquired subsidiary. Anderson brings proven skills in all areas of leadership including strategic planning, operations, financial compliance, human resources, marketing and external relations. His "best practice" methods drive continuous improvements, which will complement the vision and strategy of Accumatch.
Anderson's experience in large-scale growth strategies, mergers, and acquisitions will assist him as he leads Accumatch initiatives. In his role of CEO, he will assume direct responsibility for strategy and execution including scaling of proprietary technology to penetrate new markets. He has significant depth of experience in the financial arena as acting Chief Financial Officer, Chief Administrative Officer, and Internal Audit Director.
While working at Brown & Brown, Anderson was an asset to the team that executed B & B due diligence for the acquisition of Industry Consulting Group (ICG), a $450M tax processing enterprise servicing over 500,000 properties. As Regional Controller at B & B, he directed all aspects of financial management for the 16 independent program offices with annual revenue of over $110M. As Director of Audit for B & B, a $1B enterprise, Anderson successfully led 42 auditors, enhanced operational excellence, and reduced cost per audit by 40%.
With his progressive career track including 8 years with Brown & Brown and 2 years with James Moore & Company, a regional CPA firm, Anderson steps into the role of CEO and acting CFO of Accumatch with excitement for the future.
Since 2003, Accumatch has been a leading provider of Property Tax Reporting services and Property Tax Intelligence to the mortgage-servicing sector. Initially formed to meet a need for high quality data matching software within the Real Estate Industry, Accumatch leveraged its data and automation to deliver innovative and accurate property tax tracking services for non-escrowed loans, tax reporting services for escrowed loans, and fully automated and instantaneous property tax certificates for the title industry.