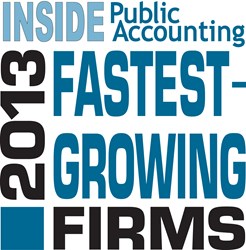 "Our priority is to help our clients grow—when they grow, we grow too. The growth is a result for us, not a goal." -Joey Havens, HORNE LLP Executive Partner
Jackson, MS (PRWEB) August 18, 2013
INSIDE Public Accounting has named HORNE LLP one of the Top 10 Fastest-Growing Firms in the U.S. The "IPA 100" list, now in its 23rd year of publication, also ranked HORNE as the 49th largest accounting firm in the nation based on 2012 net revenue.
"It is exciting to experience growth like this in today's tight economy," said HORNE Executive Partner Joey Havens. "Our growth is a direct result of our team's passionate focus on our clients. Our priority is to help our clients grow—when they grow, we grow too. The growth is a result for us, not a goal."
The IPA 100 firms were ranked by U.S. revenues and compiled by analyzing more than 500 responses to IPA's annual survey. HORNE ranked 10th on the list of Fastest-Growing Firms with a net revenue growth percentage of 11.7 percent and a net revenue of $63 million posted for 2012.
According to the report, the top 50 firms out of the IPA 100 (in terms of top-line organic growth), averaged 9 percent growth as a group—about the same as last year's top 50. But twice as many firms (12) came in with negative numbers this year as did last year (6), showing just how tenuous sustainable growth really is.
The average revenue growth for accounting firms overall, excluding mergers, was 5.2 percent. The full report is available at http://www.insidepublicaccounting.com.
HORNE is one of the top 50 accounting and business advisory firms in the country. With offices in Mississippi, Alabama, Louisiana, Tennessee and Texas, the firms serves clients across the nation. For more information on HORNE, visit http://www.horne-llp.com.