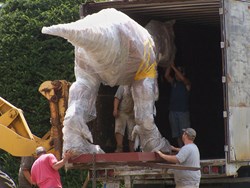 Carver, MA (PRWEB) August 20, 2013
Construction crews and staff at Edaville USA have been working overtime this summer on some new park features. The first to debut is a family ride called Flying Cranberry Crates which will be installed in time for Day Out With Thomas, starting Labor Day weekend. Soon after, an all-new animatronic dinosaur garden, Dinoland, will be unveiled in a newly developed part of the park most have never been in.
Many other changes big and small will be apparent to returning Edaville visitors when the park reopens August 31st. A redesigned park entrance and a new train platform and covered boarding area are underway. There is also a working pumpkin patch growing thousands of gourds for Edaville's new family fun Halloween event, Pumpkins Aglow! The railway itself is also changing; part of the old route is being reclaimed for an upgraded Polar Express experience this Christmas season.
The Flying Cranberry Crates is an Edaville-themed, family ride currently being assembled on the banks of Edaville's central lake. It consists of eight balloon-topped cranberry crates that are lifted up a tower and then spun around – providing some impressive, sprawling views of the park and cranberry bogs.
Also debuting this fall is Dinoland featuring 22 automated, museum-quality dinosaurs in a self-guided walk through a primordial forest. Aspiring paleontologists will dig for prehistoric bones and marvel at life-like dinosaurs as tall as 60 feet while parents will enjoy an enchanting stroll through one of Edaville's most scenic areas.
There will be some surprises too when the park reopens August 31 for Day Out With Thomas, now in its twelfth year at Edaville. Tickets for this and all Edaville events are on sale now at http://www.edaville.com or by calling 508-866-8190.
About Edaville USA
Edaville USA is a train-themed family amusement park located in the heart of cranberry country. This New England tradition features an authentic narrow gauge railway winding through picturesque cranberry bogs, as well as unlimited use of 12 vintage carnival rides and beautifully decorated indoor and outdoor play spaces. Edaville hosts many special events in the fall and winter, including the National Cranberry Festival and fabled Christmas Festival of Lights. Edaville is conveniently located less than an hour from Boston and Providence. For more information, visit http://www.edaville.com or follow Edaville on Facebook at http://www.facebook.com/EdavilleUSA .