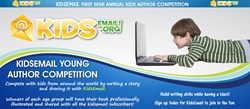 Winners in each age group will have their book professionally illustrated and shared with all of the KidsEmail subscribers.
Shelley, Idaho (PRWEB) August 21, 2013
KidsEmail, the safe and easy to use email service for kids, announces its first semi-Annual Young Author Competition. Winners in each age group will have their book professionally illustrated and shared with all of the KidsEmail subscribers.
KidsEmail's commitment to the social and educational development of kids in a safe environment is the motivation behind the Young Author Competition. Studies show that kids who are introduced to writing emails at an early age have far greater success as they advance in school.
One of the most valuable benefits that kids get from using KidsEmail is that it teaches kids to write in complete thoughts. They aren't confined to a short character count like they are on social media platforms or texting on mobile phones.
Instead, when kids type full emails, they can develop complete thoughts and even edit themselves. When parents encourage their kids to use email, even if it's only to write emails to family, parents are building their kid's long-term ability to communicate effectively.
KidsEmail is an award-winning email service for kids that is trusted by more than 30,000 parents. The email service empowers parents to increase their child's online safety with a wide range of parental controls that include monitoring incoming and outgoing mail, filtering unwanted words and images, restricting login hours, and managing contacts.
Young Author Competition entry guidelines:

Contestants must be a registered user of KidsEmail.
Contestants can submit only 1 short story.
Contestants can choose the content of their short story.
The length of the story can be determined by the contestants. However, it must fit within the 15-page length of the completed book which includes illustrations.
The story must be e-mailed to: youngauthor(at)kidsemail(dot)org FROM the child's KidsEmail account.
Parents are encouraged to sign their kids up today by visiting KidsEmail.org. The Young Author Competition runs from now until December 15, 2013.
About KidsEmail.org
Launched in 2009, KidsEmail.org is a safe email service designed to protect kids ages 4 to 12 from Internet dangers including cyberbullying, pornography, predators, and email from strangers. This service allows kids to only send emails to and receive emails from people on their contact list while also allowing parents to monitor email conversations. Visit KidsEmail.org to learn more and to sign up for a free trial.