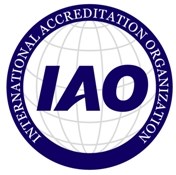 (PRWEB) August 30, 2013
IAO has altered the educational accreditation scenario by introducing international accreditation for higher educational institutes and universities. To facilitate educational institutions, IAO offers un-paralleled services to its hundreds of members. It serves as an international platform that connects educational institutes, students, faculty members, and all education and accreditation stakeholders beyond borders.
Today's students want to make a fruitful career in the corporate world and want to join an institute, university or school that offers such unending prospects. They look for institutions that will further develop them professionally and will equip them with the skills required to succeed in today's business world.The students and career services offered should help them realize their key strengths & interests learn how to harness their full potential and inculcate the abilities to negotiate and network, which are extremely useful in the business world. It should also polish their interpersonal as well as social skills, to prepare them to face the challenges posed by the corporate world today.
IAO has a pool of member educational institutes and universities that are granted international accreditation after a through analysis of their academic and career services and evaluating if they offer institutional services that are up to the international standards of education. These education providers come a long way through a strict IAO's accreditation process. They have been granted accreditation through IAO's unique patented Points Profile System only after they have fulfilled IAO's accreditation criterion and requirements. Owing to this fact, IAO has become the most favorite student's choice when they are searching for higher educational institute for themselves. A large number of students from Asia, Africa, Middle East & North America, approach IAO to check if their selected institute is internationally accredited and its rapport & reputation in the global education community. They trust IAO and acquire this information from the agency only because they know that the IAO utilizes latest technology, systems and process to stay-up-to-date. These students also look out for IAO's member educational institutions and universities, as they are assured that IAO member institutes are a part of community that is committed to providing a quality education and enriching the lives of their students.They know that they will become a part of worldwide community where they can have easy access to latest resources, get developed professionally and that their degrees will be accepted by leading national and multinational organizations the world over.
"My friend told me to check my university's credibility and standing in the international education market from IAO. As I researched through their website, I observed that they have an international reputation among education and accreditation community and that the students of their accredited institutes are of high caliber performing well in their jobs. I heard stories about graduates who land plum overseas jobs. And their employers come back the next year and hire more of the graduates, which can only means that they like what they have seen", said Sa'adahAmeer Ba, a student.
"We are glad that we have become the students preferred choice in obtaining information for their selected higher educational institute. This year the increase is by 43% over the last year and mainly they are from USA, India, Bangladesh, UAE and Saudi Arabia. We are up here with the best in the world, because we believe in granting accreditation to only the best quality education providers ", expressed SzépMarika, IAO commission member.
About IAO
IAO is an international quality assurance agency, working to improve quality assurance standards of organizations all over the world. With its global network of experts, IAO grants accreditation to educational institutions, corporations, professionals and qualified individuals.