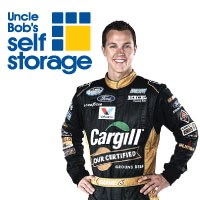 Atlanta, GA (PRWEB) August 19, 2013
Professional race car driver Trevor Bayne will visit Uncle Bob's Self Storage on Thursday August 29th to sign autographs and greet fans. Fans can meet Trevor at the Uncle Bob's on 1890 Briarwood Road NE in Atlanta, GA 30329 from 5:30-7:30 pm local time.
"Trevor has proven he loves meeting his fans and provides an excellent experience for them," said Philip Wilfong, Area Manager of Uncle Bob's Atlanta storage facilities. "We know many of our customers are big fans of racing, so we are beyond excited to host an event like this."
In addition, visitors can register to win tickets to the major racing event on Sunday, September 1st in Atlanta. 680 AM The Fan will be on hand to give away prizes as well.
The meet and greet is open to the public and all are welcome to attend. For further details please visit unclebobs.com/Trevor.
About Trevor Bayne
Trevor Bayne is an American NASCAR Sprint Cup Series and Nationwide Series race car driver. He is known for driving the #21 Motorcraft/QuickLane Ford Fusion for Wood Brothers Racing in the Spring Cup Series, and the No. 60 Ford Mustang for Roush Fenway racing in the Nationwide Series. In 2011, Bayne won the Daytona 500 at Age 20 and became the youngest driver ever to do so.
About Uncle Bob's Self Storage
Uncle Bob's Self Storage® is owned by Sovran Self Storage, Inc., (NYSE:SSS) a real estate investment trust (REIT) that acquires and manages self storage facilities. Uncle Bob's is one of the largest self storage companies in the United States with more than 450 storage locations spread across 25 states. Uncle Bob's currently has 22 self storage locations in the greater Atlanta area.