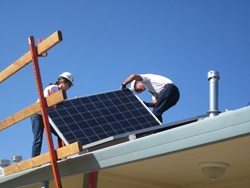 By igniting a spark of interest, we hope students will continue to take the math they need to complete degrees and go onto exciting STEM Careers.
Rocklin, CA (PRWEB) August 19, 2013
Sierra College mathematics faculty brought solar power to two Grass Valley, CA single mothers in need while participating in an externship with the non-profit GRID Alternatives made possible by the Sierra College Science, Technology, Engineering and Math (STEM) Collaborative.
In early August, Vicki Day, Katie Lucero, Jay Kessler and Jaqueline Anderson spent two days in the field, installing solar for two Habitat for Humanity households and identifying real-world math applications that they could use in their classes.
For example, explained Day, standard lengths of rails are brought on site and have to be cut to fit the roof and the panels. "Calculating the cuts to minimize the waste of the rails would enable students to practice their problem solving skills," said Day.
For Trigonometry students, Day indicated that there were many mathematical applications related to roof pitch, panel angle and the position of the sun during different seasons and times of the day. "I will ask students to minimize the space for the solar project while assuring no shadows will be created on any of the individual solar panels throughout the day and year."
"These applied math problems will appeal to students' curiosity. By igniting a spark of interest, we hope students will continue to take the math they need to complete degrees and go onto exciting STEM Careers," said Day.
Carol Pepper-Kittredge, Director, Sierra College Center for Applied Competitive Technologies (CACT) who manages the STEM Collaborative, reported that both high school and college faculty have gained a new perspective by going on externships. "Instructors tell us that the STEM externships are very valuable, have enhanced their teaching and given them concrete examples that they can share with their students," said Pepper-Kittredge.
"Our business partners have asked educators to incorporate more mathematics and applied critical thinking into curriculum. Employers and organizations like GRID Alternatives are providing opportunities through externships for instructors to experience these skills being used in real work situations. This is essential to developing graduates ready to join the 21st century workforce."
Although the GRID faculty externship is a first, Sierra College has an ongoing relationship with the organization. The nonprofit has provided hands-on solar installation opportunities to many Sierra College students in the Environmental Studies and Sustainability -- Photovoltaic program over the past few years.
GRID provides solar technology to low-income communities that would not otherwise have access, while preparing workers for employment in the solar industry, explained Rebekah Casey, Regional Development Officer with GRID.
"Our solar program provides much needed savings for families and each system is installed with the help of volunteers, job training groups and corporate teams," said Casey. "Working with the math professors was a unique opportunity for our organizations to teach each other. Sierra College students are very lucky to have such ambitious and innovative faculty."
About Sierra College STEM Collaborative
The Sierra STEM Collaborative is funded by the California Community College Chancellor's Office to create a pipeline of students interested in technical careers. Students can pursue Welding, Mechatronics, Engineering, Drafting & Engineering Support and Environmental Studies and Sustainability -- Photovoltaic at Sierra College. For information, go to http://www.sierraschoolworks.com or contact Carol Pepper-Kittredge, Sierra College at (916) 660-7801.