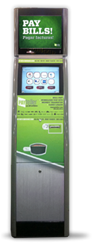 We saw kiosks as a key distribution channel when we were selling prepaid long distance cards. The Payteller machines are the natural evolution of this sales channel.
Boca Raton, Florida (PRWEB) August 20, 2013
Boca Raton-based Payteller LLC, a leading provider of self-service kiosks offering financial services, has signed an exclusive contract with IntelliVoice Networks, Inc. to install its kiosks or "Paytellers™" in Texas and throughout the Midwest in high traffic retail locations.
IntelliVoice is a leading provider of domestic and international long distance calling and is a veteran of the Prepaid Services industry. For over 20 years, IntelliVoice has pioneered new products and services including the largest network of international long distance card kiosks in the United States.
Paytellers allow for prepaid debit card loading, wireless top-up and bill payment with over 12,000 billers, including most of the utilities in the United States.
The two companies working together in the prepaid space is a logical move. With different areas of expertise in the industry, business on both sides will be bolstered, as well as an added degree of convenience for consumers and merchants. Consumers without traditional bank accounts will be able to conduct all of their banking, financial, and wireless transactions quickly in one location. These factors will significantly increase foot traffic for the merchant locations.
IntelliVoice CEO Steve Bell commented, "We saw kiosks as a key distribution channel when we were selling prepaid long distance cards. The Payteller machines are the natural evolution of this sales channel. The consumers who previously relied on prepaid long distance cards are transitioning to prepaid wireless. With Payteller kiosks, we're able to offer the consumers a wider range of services and provide retailers with a virtual mall of products without the need for expensive shelf space, training or inventory."
Payteller CEO Jeff Foster added, "IntelliVoice wrote the book on creative solutions for the prepaid industry. Their network and experience make them the perfect partner for Payteller. We expect to roll out a significant network of kiosks with Steve's team, utilizing their existing relationships and channels. This is a great example of how Payteller expands the offering with high demand financial services such as bill pay, top up, digital coupons and advertising through state of the art retail technology."
About Payteller
Payteller is focused on bringing time and cost-effective financial services to the unbanked and underbanked populations of the world. Payteller merges best in breed technologies to reduce transaction time and cost while maximizing revenue, profit and loyalty with telecom top up, international long distance, bill payment, prepaid card issuing, prepaid card loading, remittance, advertising, virtual gift cards and more. Payteller kiosks are available for purchase or lease to qualified merchants throughout the Americas.
About IntelliVoice
IntelliVoice Networks, Inc. specializes in Internation VOIP Carrier Services. In this business, connections are the name of the game. IntelliVoice leverages hundreds of well-developed customer and vendor connections and relationships to offer Wholesale, Premium and CLI direct routes to domestic and international destinations at rates and quality to fit today's most discerning telecom provider. The Company also builds and operates International Direct GSM termination points around the world together with the assistance of local partners and in-country associates. The IntelliVoice management and sales team offers decades of wholesale, retail and appliance telecom experience giving both our customers and vendors the opportunity to stay profitable in today's ever-changing marketplaces.