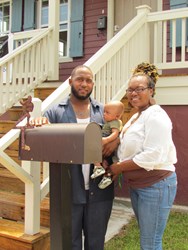 New Orleans, LA (PRWEB) August 18, 2013
On Friday, Aug. 16, Kimberley Jones and Aldon Lightfoot celebrated the completion of their New Orleans Area Habitat for Humanity (NOAHH) home in Central City in New Orleans. Kimberley, Aldon and their three children are beyond excited to be moving into their new home in Central City, which was sponsored by Nissan and the Heisman Trophy Trust. Nissan North America executive Erich Marx spoke on behalf of the sponsors. Also persent were Habitat for Humanity International representative Fred Brewer and NOAHH board member Antoine Barriere, who lead the benediction of the home.
"We have always wanted a house to raise our wonderful kids, a place they can always call home," stated Kimberley Jones, NOAHH partner family. "We are grateful and thankful to Habitat of New Orleans, Nissan and Heisman for making our dream come true."
Both Kimberley and Aldon grew up in New Orleans-–one in the Carrollton area and the other in Kenner--and wanted to raise their children in their home city. Kimberley is pursuing a degree in Early Childhood Education, and her husband, Aldon, is pursuing a career as a longshoreman for the Port of New Orleans.
"Nissan's corporate vision is to enrich people's lives, and I can't think of a better way to encourage a local family than to partner with them to build their own home," says Jon Brancheau, vice president of Nissan Marketing. "Nissan is proud to be a long-standing sponsor of Habitat for Humanity, which shares our commitment to sustainability and community building. We were honored to work alongside Kimberley, Aldon and our partners from the Heisman Trophy Trust to build this family's new home."
The Lightfoot/Jones home was built with help from a construction crew that included Heisman Trophy winners John Lattner (1953, University of Notre Dame), Johnny Rodgers (1972, University of Nebraska), George Rogers (1980, University of South Carolina), Mike Rozier (1983, University of Nebraska), Danny Wuerffel (1996, University of Florida) and Eric Crouch (2001, University of Nebraska).
During the dedication ceremony for the home, Nissan presented a 2013 Nissan NV3500 commercial cargo van to New Orleans Habitat for Humanity. The van will be used to support ongoing home ownership projects, with cargo space designed to transport tools and materials. Local dealership owner Ray Brandt presented the keys to Jim Pate, NOAHH executive director, during the ceremony.
Nissan's national partnership with Habitat dates to 2005, following hurricanes Katrina and Rita. Since 2006, Nissan has contributed more than $9 million to Habitat for Humanity. Nissan employees have helped to build more than 62 homes across the United States, and the company has donated 111 vehicles to support Habitat's mission.
About Nissan North America
In North America, Nissan's operations include automotive styling, engineering, consumer and corporate financing, sales and marketing, distribution and manufacturing. Nissan is dedicated to improving the environment under the Nissan Green Program and has been recognized as an ENERGY STAR® Partner of the Year in 2010, 2011 and 2012 by the U.S. Environmental Protection Agency. More information on Nissan in North America and the complete line of Nissan and Infiniti vehicles can be found online at http://www.NissanUSA.com and http://www.InfinitiUSA.com or visit the Americas media sites NissanNews.com and InfinitiNews.com.
About Nissan
Nissan Motor Co., Ltd., Japan's second-largest automotive company, is headquartered in Yokohama, Japan, and is part of the Renault-Nissan Alliance. Operating with more than 267,000 employees globally, Nissan sold more than 4.9 million vehicles and generatedrevenue of 9.6 trillion yen ($US 116.16 billion) in fiscal 2012. Nissan delivers a comprehensive range of over 60 models under the Nissan and Infiniti brands. In 2010 Nissan introduced the Nissan LEAF and continues to lead in zero-emission mobility. The LEAF, the first affordable, mass-market, pure-electric vehicle launched globally, is now the best-selling EV in history. For more information on our products, services and commitment to sustainable mobility, visit our website at http://www.nissan-global.com/EN/.
About Habitat for Humanity International
Habitat for Humanity International's vision is a world where everyone has a decent place to live. Anchored by the conviction that safe and affordable housing provides a critical foundation for breaking the cycle of poverty, Habitat has helped more than 3 million people construct, rehabilitate or preserve homes since 1976. Habitat also advocates for fair and just housing policies and provides training and access to resources to help more families improve their shelter conditions. As a nonprofit Christian housing organization, Habitat works in more than 70 countries and welcomes people of all races, religions and nationalities to partner in its mission. To get more information, to donate or to volunteer, please visit habitat.org.
About New Orleans Area Habitat for Humanity
New Orleans Area Habitat for Humanity, an independent affiliate of Habitat for Humanity International, is a 501(c) 3 non-profit organization. NOAHH builds new houses in partnership with sponsors, volunteers, communities, and homeowner families to eliminate poverty housing in the New Orleans area while serving as a catalyst to make decent shelter a matter of conscience and action. Since its inception in 1983 NOAHH has served over 3,200 families and has just begun construction on its 500th new home for a low-income family in need of adequate shelter. http://www.habitat-nola.org
About The Heisman Trophy Trust
The Heisman Memorial Trophy annually recognizes the outstanding college football player in the United States. Winners epitomize great ability combined with diligence, perseverance and hard work. The Heisman Trophy Trust ensures the continuation and integrity of this award. The Trust, furthermore, has a charitable mission to support amateur athletes and to provide greater opportunities to the youth of our country. Our goal through these endeavors is for The Heisman Trophy to symbolize the fostering of a sense of community responsibility and service to our youth, especially those disadvantaged or afflicted.
# # #
Contacts:
Vicki Smith
Nissan North America
615-594-7198
vicki.smith(at)nissan-usa(dot)com
http://www.NissanNews.com
Aleis Tusa
New Orleans Habitat for Humanity
504-861-2077
aleist(at)habitat-nola(dot)org
http://www.habitat-nola.org