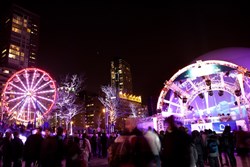 There are more festivals in Montreal than weeks in the year.
Palo Alto, CA (PRWEB) August 19, 2013
Families hoping to catch a kid-friendly festival during their visit to Montreal, Quebec need to plan their vacation for just about any time whatsoever. Throw a stone, hit a festival in Montreal, no matter the season. (But please don't throw stones.) In fact, there are more festivals in Montreal than weeks in the year, according to Tourisme Montreal, the city's authority on Montreal events.
Trekaroo can help parents decide which festivals to attend, along with which kid-approved Montreal lodging options to book, attractions to visit, and restaurants to patronize in this colorful, international city.
Trekaroo lists top festivals in Montreal not to pass up, according to Trekaroo family-travel experts and local Montreal residents:
Fête des Neiges
Held every January, "Fete des Neiges invites you to the biggest winter outdoor festival in the city with spectacular and fun-filled activities, including tube sliding, ice skating, snow games, colourful outdoor shows, and much more," says Montreal vacation expert Marie-Jose Pinsonnault of Tourisme Montreal. Families celebrate all that's great about Montreal winters: snow, warm drinks, and community fun. Bring mittens.
Montreal Completement Cirque
Home to the famous Cirque de Soleil, Montreal is no stranger to the circus arts. Every July, the Completement Cirque festival features up to 15 circus troupes, including over 200 artists from three continents, performing in both traditional and street-side venues throughout the city. Catch the acts of jugglers, acrobats, and clowns with the kids.
Montreal Military Culture Festival
Held over Labor Day weekend, this festival located in Vieux-Port honors the military and military tradition with exhibits, displays, and a sense of pride. "We love Montreal's Military Culture Festival because children can learn about the history of the military through reenactments, as well as their own exploration through exhibits and even crawling inside a cockpit!" says Trekaroo member Melissa Schwartz of Two Moms, a Little Time, and a Keyboard.
Montreal International Jazz Festival
Jazz isn't just for grown-ups. The coordinators of the Montreal International Jazz Festival (held annually at the end of June) know how to cater to kids with a Little School of Jazz show, face painting, and play areas set up specifically for younger music appreciators. Kids can even make some music of their own at the Musical Park, where a giant piano awaits foot stomping fun.
Les Week-ends du Monde
Around the world in a weekend? Only in international, kid-friendly Montreal. At the Les Week-ends du Monde, kids can celebrate diverse cultures through music, food, dance, and traditions. Numerous stages provide space for international shows, and food vendors tempt families to try new dishes.
Just for Laughs Festival
The Just for Laughs Festival at the Place des Festivals offers a labyrinth, the popular twins parade, and a costume race for kids and adults. The "Place de la Famille" stage offers workshops on topics ranging from puppet construction to kite decorating, and family entertainment can be found in the form of clowns, mascots, shows, and games. "Our kids were mesmerized by the larger-than-life characters roaming the area and the physical comedy acts transcended language barriers," says Trekaroo member Cindi Brothers. "There is a great, positive energy to the festival!"
Fete des Enfants
The "Fête des Enfants" children's festival, designed for kids under age 12, is held in Parc Jean Drapeau, a popular venue for Montreal family events. On the schedule: educational and cultural activities parents can feel good about. Kids can look forward to inflatable games, a zip-line, a science tent, and a 'mini zone' for toddlers.
Gardens of Light
Set during the autumn months of September and October, Pinsonnault describes the Gardens of Light as a showcase of "more than 800 fabulous colourful lanterns lit at the Chinese Garden, while in the Japanese Garden, the interplay of light and shadow create an atmosphere of calm and refined beauty." Escape for a moment of tranquility with the family, or to introduce kids to Chinese and Japanese culture.
Local festivals extend beyond the boundaries of Montreal: for families exploring the greater Quebec region, out-of-town festivals can enhance a weekend trip or road trip. Two of Trekaroo's top picks:
Osgoode Medieval Festival
Come out during Education Day at the Osgoode Medieval Festival for demonstrations on archery, to learn the codes of chivalry, and to watch knights duke it out on horseback. Located in Osgoode (near Ottawa), the festival takes place mid July.
Les Cartonfolies
This festival of all things cardboard takes place every June, and includes cardboard boat races on Lake Temiscouata, and feats of strength and athleticism with the Cartonlympiades. Find Les Cartonfolies in Cabano, in the region of Bas-Saint-Laurent.
Get more information on Montreal festivals at Trekaroo. With thousands of kid-friendly activities, hotels, and restaurants, Trekaroo unearths delightful discoveries near and far. Learn more about Trekaroo's Canada launch and connect with additional travel-savvy families on Trekaroo.com.