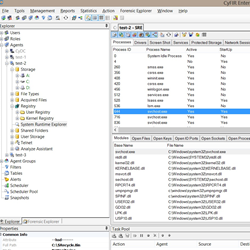 CyFIR's greatest value to me is its ability to work equally well in network forensics, incident response, eDiscovery, and internal security environments.
Manassas, VA (PRWEB) August 26, 2013
CyTech Services, Inc. announced the launch of its new enterprise digital forensics platform—CyFIR Enterprise. CyTech Services purchased the enterprise software division of Paraben Corporation last February.
"CyTech is an established, service-oriented firm with strong digital forensic analysis expertise in both enterprise-level incident response and in-depth digital forensic investigations," said Benjamin Cotton, CEO of CyTech Services, Inc. "Our senior managers are experienced digital forensic analysts themselves, and we found that no current forensics tool truly met our needs when working in the field. We developed CyFIR to meet the unique requirements of enterprise-level digital investigations," he continued.
With the needs of medium to large enterprise customers in mind, CyTech is changing the enterprise forensics paradigm with CyFIR's release. "We've developed CyFIR to search through an entire enterprise quickly, without the investigator being slowed by the restrictions of licensed concurrent connections," said John Irvine, Vice President of Technology Development. "When CyFIR searches through an enterprise, it searches the entire network at once—without causing performance issues. Search results appear from each networked computer the moment they are found, allowing analysts to begin working immediately instead of waiting for lengthy imaging processes," he added.
CyFIR Enterprise's features include the ability to view a remote computer's file system in a forensically safe manner, ensuring sound evidence collection should an investigation move to criminal or civil proceedings. Additionally, investigators have the ability to view and analyze remotely running programs in memory to search for evidence of malicious code, viruses, or other unauthorized programs. "CyFIR takes unauthorized code search and remediation to a new level," said Irvine. "Being able to sweep an entire network for threats and instantly trace running programs back to the hard disk allows incident responders to remediate a computer intrusion much faster than with traditional tools."
CyTech's developers designed flexibility into the system as a core concept. "CyFIR's greatest value to me is its ability to work equally well in network forensics, incident response, eDiscovery, and internal security environments," said Christopher Taylor, Director of Forensics at CyTech Services. "One installation of CyFIR can serve the diverse needs of an organization's Information Technology, Corporate Security, and Human Resources departments," he continued.
For further information about CyFIR Enterprise and its capabilities, interested parties may review CyFIR's website at http://www.cyfir.com or contact CyTech Services at (703) 659-9805.
ABOUT CYTECH SERVICES, INC.
CyTech Services, Inc. specializes in advanced digital forensic investigation and incident response services and enterprise-level digital forensic tool development. CyTech's forensic staff has an extensive history serving top Federal law enforcement and intelligence agencies and corporate clients. CyTech Services is a Service Disabled Veteran Owned Small Business (SDVOSB) and is headquartered in Manassas, VA.