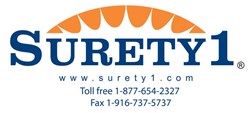 the overall surety industry is very competitive right now. As such, we have more markets available to provide quotes for the $75,000.00 bond than we did for the $10,000 bond that is the current requirement
Sacramento, CA (PRWEB) August 22, 2013
The new $75,000 transportation broker surety bond, also known as an BMC-84 bond, is now available via an online application from Surety1. The BMC-84 Surety Bonds or ICC Transportation Bonds are required by the Federal Motor Carrier Safety Administration. Effective October 1, 2013, the required amount of the surety bond is increasing from $10,000.00 to $75,000.
Licensed property brokers and freight forwarders will have until October 31 to have the bond in place or face suspension of their license. Forwarders and Brokers of household goods will be required to post a $25,000 surety bond versus the current bond amount of $10,000.
Christine Boscacci, Vice President of Surety1, says, "The overall surety industry is very competitive right now. As such, we have more markets available to provide quotes for the $75,000.00 bond than we did for the $10,000 bond that is the current requirement." Surety1 will be able to provide multiple quotes for most applicants and secure the lowest possible price and the best customer service in the industry.
Surety Solutions Insurance Services, Inc. is an independent insurance agency based in Rancho Cordova California, specializing in the placement of surety bonds and other specialty insurance products. For more information on obtaining BMC-84 Surety Bonds, you can contact Surety Solutions through its website, http://www.surety1.com, by calling toll free at 877-654-2327 or by e-mail at info(at)surety1(dot)com.
*All rates and terms are subject to underwriter approval.