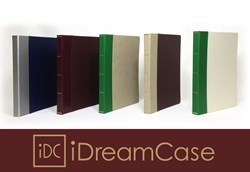 "The new case design is inspired by our clients," says master bookbinder Gabi Hanoun
San Francisco, CA (PRWEB) August 17, 2013
iDreamCase will launch a new three-piece design on August 28, 2013. The fresh design will be a unique addition to the existing iDreamCase line. 3-piece design is an old design in bookbinding that needs a bookbinder experience to create. The new product builds on iDreamCase's reputation for award-winning, handmade tablet cases.
"The new 3-piece design case is inspired by our clients," says master bookbinder Gabi Hanoun, iDreamCase's founder and CEO. "As their needs grow, so must our products. My team is excited for this launch, and I can't wait to see our customers experience it in a few weeks."
The new design will include the most popular iDreamCase features: a vibrant color palette, secure elastic band, and the exceptional material quality. "The new design is special, and will include even greater functionality," Hanoun says.
iDreamCase has been recognized for their ability to keep up with the ongoing release of new personal communication device cases. More information, and direct orders, can be found on the iDreamCase website.
About iDreamCase
iDreamCase handcrafts superior quality, truly handmade products using only the finest materials. Guided by our strong commitment to handmade artisanship, iDreamCase designs and creates luxuriously protective handmade iPad® cases, iPad mini® cases, Nexus 7® cases, Kindle Fire HD® cases and iPhone® 4/4S/5 cases and sleeves. Made from elegant fabrics imported from Italy and exclusive genuine leather, iDreamCase products offer a superior design aesthetic, provide sophisticated style and protection, and reflect centuries-old, unmatched handmade craftsmanship. Master bookbinder Gabi Hanoun artfully weaves over 30 years experience into each handmade tablet case and sleeve and smart phone sleeve, truly revolutionary products in handcrafted artistry. http://idreamcase.com.
About Cardoza-James Binding
Cardoza-James Binding provides quality products and the best bookbinding services. For all entities, from professional services firms and printing companies to independent photographers, our handcrafted binding services showcase materials with superior presentation. Cardoza-James binds books, creative works, and other specialty products in a classic and traditional way to fit custom specifications. Hallmarks of our dedication to quality and excellence include winning the Gold Award from Printing Industries of Northern California (PINC) over past 10 years and the Gold Award from San Francisco Gallery over last 5 years.
Contact:
iDreamCase
support(at)idreamcase(dot)com
Written by Laura Frank