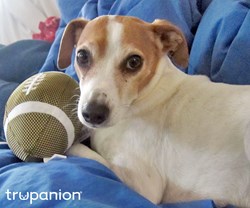 "We find that more and more, pet owners choose a name for their pet that mirrors their own passions." -- Darryl Rawlings
Seattle, Wash. (PRWEB) August 19, 2013
To kick off the 2013-2014 football season, Trupanion, a leading provider of pet insurance in North America, scoured its database to find the most common football-related pet names.
Turns out, the game of football provides a lot of options for pet names. While it's not surprising that the more common names also have connotations outside of football ("Bear," for example, topped the list), "Blitz" came in at number nine and "Madden" and "Niner" rounded out the top 20.
1. Bear
2. Brady
3. Spike
4. Titan
5. Raven
6. Jet
7. Chief
8. Cowboy
9. Blitz
10. Colt
11. Montana
12. Rookie
13. Raider
14. Bill
15. Bronco
16. Coach
17. Charger
18. Madden
19. Niner
20. Panther
More obscure names included "John Elway," the Bullmastiff from California; "Fumble," the Goldendoodle from New York; "Heisman," the Great Dane from Missouri; and "Touchdown," the Beagle from Illinois.
"We find that more and more, pet owners choose a name for their pet that mirrors their own passions," said Darryl Rawlings, Chief Executive Officer at Trupanion. "We've seen Diddy and Gaga in the music genre, for example. So these football-inspired names don't surprise me at all. It's a lot of fun to see how pet owners choose to define their pet."
About Trupanion®
Trupanion is the second-largest pet insurance provider in North America(1) and an industry leader, offering cat and dog insurance in the United States and Canada. Trupanion's policy includes coverage of hereditary and congenital conditions with no payout limits per incident, per year, or over the lifetime of the pet. Trupanion's corporate culture includes an office with 250 employees and 90 dogs and cats (a 3:1 human to pet ratio). Trupanion Inc. owns American Pet Insurance Company (APIC). APIC, which has earned a Financial Stability Rating® of A, Exceptional, from Demotech, Inc. underwrites Trupanion. For more information call 800-569-7913 or visit Trupanion.com. You can also follow Trupanion on Twitter or Facebook.
(1)North American Pet Health Insurance Industry Report, 2012