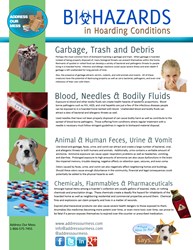 Hoarders may be exposing themselves, their loved ones, and their neighbors to potentially deadly hazards like disease, fire, explosions, and (structural) collapse.
Philadelphia, PA (PRWEB) August 20, 2013
Hoarding is becoming a hotbed pop culture topic. Viewers across America tune in on a regular basis to television documentary series like A&E's Hoarders to take a peek into the tortured world of a pack rat, clutter collector, or hoarder. While some episodes feature people living amongst stacks of papers, boxes, clothing, and collectibles, others delve into a more dangerous side of hoarding.
It is estimated that anywhere between 6 million and 16 million US citizens suffer from the hoarding condition. Of them, a large percentage are not simply dealing with piles of papers and boxes. Instead, some hoarders are living amongst dangerous doses of biohazards that can prove to be deadly for the hoarders, their families, and the communities in which they live.
Hoarding and clutter cleanup experts Address Our Mess regularly publish a series of visual guides designed to assist hoarders of all types find their path to a happier, healthier lifestyle. In their latest publication, Biohazards in Hoarding Conditions, Address Our Mess provides a unique look into the dangers that may lurk inside of a hoarded home.
Hoarders may be exposing themselves, their loved ones, and their neighbors to potentially deadly hazards like disease, fire, explosions, and collapse. Many of these dangers can be avoided simply by identifying that they exist. For helpers of hoarders, this useful guide can offer a perspective into the home of their loved one that they themselves may never have had the opportunity to see firsthand. This is a common occurrence due to the self-imposed social alienation most hoarders plague themselves with.
Many forms of bacteria and viruses are spawned out of the presence of garbage and trash in a hoarded home. The biological threats can create catastrophic health risks. Spoiled or rotten food, soiled dishes and linens, and wrappers and boxes that are not properly disposed of can create colonies of bacteria and viruses that can plague a home. Furthermore, garbage can attract insects, rodents, vermin, and wild animals, all of which present even greater danger when exposed to humans or domesticated pets.
Blood and other bodily fluids are often found in hoarded homes to the surprise of helpers and hoarding cleaning service technicians. Blood borne pathogens such as HIV, AIDS, and viral hepatitis are just a few of the deadly diseases that could spawn from unattended blood in a hoarder's home. The presence of used needles that have not been properly disposed of can also harbor these diseases as well as a host of others.
Most common in animal hoarding service cases, feces, urine, and vomit can create a very dangerous situation for property dwellers. However, hoarding cleanup experts will be the first to acknowledge that pets are not the only ones who mess in a hoarder's home. Human waste is also found in severe gross filth hoarding cases.
Feces, vomit and urine are harbingers for the same bacteria, pathogens, and allergens found in spoiled food and tainted blood. Urine, however, also contains a veritable amount of ammonia. Cat urine may be the most potent type of urine found in a hoarded home. Prolonged exposure to ammonia can cause impaired memory, sleep disorders, attention span dysfunction, seizures, and even comas. Also, overwhelming odors can attract the unwanted attention of neighbors, causing municipal authorities to site the property for poor sanitary conditions. The latter danger could cost hoarders many thousands of dollars in fines, or worse, their homes.
Lastly, hoarding chemicals and other flammable products can cause instant death and destruction should conditions deteriorate within a hoarded home. Hoarding experts often find gallons of stale, rotting, or expired flammable chemicals in homes they have been contracted to clean. These dangerous items can prove to be deadly not only to the dwellers of the property, but to their neighbors and community as well.
Taking the first step on the road to recovery can be very overwhelming. However, with the help of Address Our Mess' visual guide series and some heavy duty housecleaning, hoarders and their helpers can reach the end of the road to a happier, healthier lifestyle.