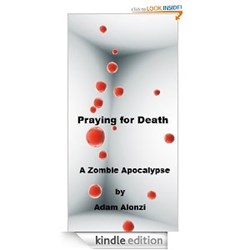 It's not a light read, but it's an enjoyable one.
Gainesville, FL (PRWEB) August 19, 2013
Zombie novels are changing. Authors like Iain McKinnon, Hugh Howey and Adam Alonzi are exploring the possibilities of this wildly popular genre. Combining the excitement and suspense of standard undead apocalypses with literary sophistication, they are breaking free from the old conventions and blazing their own trails.
Refusing to crank out simple gore-fests, these writers have infused philosophy and social commentary into their novels. Of these novels Praying for Death is perhaps the most ambitious. Through the zombie genre its author explores a variety of themes and ideas. He is currently working on a collection of short stories about the undead and a science fiction novella.
One Amazon reviewer wrote:
"I found this offering, Praying for Death, to be an entirely engaging and a fresh take in the popular genre of the 'impending undead apocalypse.' I haven't read many zombie books, but I had a sense right off that this would be different. In a good way. The author was successful in creating more than just stock characters lumbering through the standard tired zombie storyline. It's not a light read, but it's an enjoyable one."
Adam Alonzi is a writer, inventor, programmer and columnist for The Indian Economist. He finished his first novel, a work of historical fiction, at 16. He published A Plank in Reason at age 19. His latest novel, Praying for Death: A Zombie Apocalypse, was released in April of 2013.