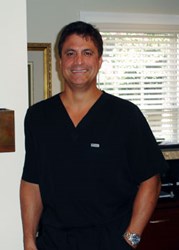 Durham, NC (PRWEB) August 17, 2013
Patients who are missing teeth or are at risk of losing them because of periodontal disease can stop further losses by scheduling laser gum surgery with Dr. Jason Cataldo of Periodontics and Dental Implants of North Carolina. The new gum disease treatment, the Laser Assisted New Attachment Procedure (LANAP), reduces bone loss not only by saving teeth, but also by directly stimulating bone growth.
Patients who suffer from gum disease are at an increased risk of losing teeth. In turn, patients who have lost teeth may suffer from bone resorption, in which the jawbone stops maintaining itself and starts shrinking. This happens because the stimulation from the root of a tooth is what normally cues the jawbone to regenerate. Once that stimulation is lost, changes in a patient's mouth and even facial structure can occur quickly and be visible. It is important for patients to seek treatment to prevent tooth loss and all the resulting problems.
LANAP is an especially effective choice when bone and tooth loss are a concern. Dr. Cataldo can perform the procedure without harming gum tissue, teeth, or the jawbone; only periodontal disease absorbs the wavelength of the laser. However, the laser also stimulates the jawbone. This can make it easier for teeth that are damaged to reattach to the bone.
Besides the previously mentioned problems, tooth loss can pose other issues for patients. These problems include difficulty chewing and speaking normally, changes in facial appearance, and shifts in the position of neighboring teeth. When these teeth shift, it can change the pattern of the patient's bite and cause pain.
Some patients may have avoided conventional periodontal surgery because of its reputation for being painful. Additionally, although traditional surgery eliminated gum disease, it lacked a mechanism for stimulating the bone and improving the chances of teeth being saved. LANAP, however, provides the stimulation and is minimally invasive.
Patients who would like to set up an appointment for laser gum surgery with Dr. Cataldo, or learn more about how the procedure can help prevent tooth and bone loss, are invited to call his office or visit his website.
About the Practice
Periodontics and Dental Implants of North Carolina is a periodontal practice offering personalized dental care for Durham, NC gum disease patients. Dr. Jason Cataldo attended college at the University Of Buffalo School Of Dental Medicine, completed a general practice residency at Michael Reese Hospital in Chicago, IL, and completed his periodontal training at Case Western Reserve University in Cleveland, OH. He is board certified in periodontology and Adjunct faculty at the University of North Carolina at Chapel Hill. Dr. Cataldo is part of one percent of dental professionals providing the most recent FDA cleared laser procedure for gum disease treatment. To learn more about Periodontics and Dental Implants of North Carolina and their dental services, visit their website at http://www.carolinaperioimplants.com and call (919) 724-4273.