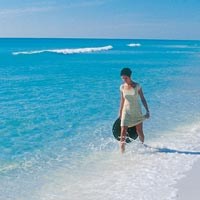 Panama City Beach, Florida (PRWEB) August 18, 2013
Panama City Beach is home to powdery soft white sandy beaches and beautiful emerald green waters, but beyond the beach there's tons to do in this destination. The fall season brings more than beautiful weather and great hotel rates, visitors to the area will find a whole line-up of fun festivities that fishing fans, motor cycle enthusiast, families, music lovers, and car guys, will enjoy all throughout the fall – and the Holiday Inn Resort is in the heart of all the action.
License Free Saltwater Fishing Day - September 1st, 2013
Panama City Beach's line-up of fun starts September 1st with a day of "License Free Saltwater Fishing Day." License free days only happen a couple times each year and are perfect chances for parents to take the kids fishing, or for passionate fishermen who visit the area on vacation to try their hand at saltwater fishing without having to purchase a license. Be sure to pack your fishing pole if visiting during one of the license free days, there's plenty of options to test your angling skills all around Panama City Beach.
24th Annual Lobster Festival & Tournament - September 19th - 23rd, 2013
The fun continues with the 24th Annual Lobster Festival & Tournament happening at Schooners, the "last local beach club," September 19th - 23rd, 2013. This great event is only minutes away from the Holiday Inn Resort and is the largest four day lobster festival in Florida drawing thousands of divers and lobster fans from all over the southeast. Lobster tournament divers will be competing in a variety of categories including Spiny Lobster, Shovelnose Lobster and big 6. Locals and visitors alike can look forward to huge local lobsters on the weigh-in scales, mouth-watering dishes featuring fresh lobster, live entertainment, and the annual Schooners sand sculpting contest with tons of great prizes! For more information on this great event visit http://www.schooners.com/events/lobsterfestival.htm/.
Gulf Coast Jam Package - September 26th - 28th, 2013
Later in September, country music fans will be excited to see a full line-up of stars take the stage with Gulf Coast Jam! This three day country music festival kicks off on Thursday, September 26th and goes through Saturday, September 28th, and features a variety of great artists Toby Keith, Brantley Gilbert and the Eli Young Band. Also appearing onstage will be leading country artists Trace Adkins, Kip Moore, The Charlie Daniels Band, Darryl Worley, Blackberry Smoke and others. Be sure to check out the Holiday Inn Resort's Gulf Coast Jam Package where guests can enjoy 3 nights in a gulf front room at the resort and receive tickets for all 3 nights of amazing concerts for 2 adults.
Thunder Beach Autumn Rally - October 2nd – October 6th, 2013
The line-up of great events continues with this year's Thunder Beach Autumn Rally October 2nd – 6th! Motorcycle enthusiasts from all over come down for Bike Week in Panama City Beach to enjoy great weather, vendors and exhibitors, tons of entertainment, and of course – to ride with a view of the beautiful beaches. The Holiday Inn Resort resides beachside, directly across the street from the main venue and is only minutes away from all 7 of the other venues for this FREE rally, making it the hottest place to stay during Bike Week. Be sure to check out all their great value added packages on http://www.hipcbeach.com or call them at 800.633.0266 and reserve your room before their gone.
Pirates of the High Seas Fest - October 11th – 13th, 2013
Every October kids look forward to Columbus Day weekend because that means they get to enjoy a long weekend from school; in Panama City Beach, Columbus Day weekend means the return of the Pirates of the High Seas Fest! Families vacationing in Panama City Beach can enjoy an extra adventurous weekend with the "Fun Never Sets Pirates of the High Seas Fest," where they'll see a pirate parade and all sorts of pirate fun – including a dueling fireworks display. This family friendly fest is hosted at Pier Park, just minutes away from the #1 family friendly resort on Panama City Beach, the Holiday Inn Resort.
Panama City Beach Seafood & Music Festival - October 17th- 18th, 2013
Whether you enjoy seafood, wine, craft beer, or music, the Panama City Beach Seafood & Music Festival is sure to have something for you! The 2013 Panama City Beach Seafood and Music Festival is a celebration of seafood, culinary arts, music, and entertainment all at Aaron Bessant Park October 17th- 18th. Guests and locals alike will enjoy the flavors of fine craft beer, award-winning wine, and tasty cuisine prepared by local chefs, as well as great entertainment including Abigail Rose, Better Than Ezra, Collective Soul, Andy Velo Band, Ed Roland & The Sweet Tea Project, LOVERBOY, and Foreigner. Aaron Bessant Park is located at the Pier Park shopping and lifestyle center, only 5 miles away from great gulf-front rooms at tripadvisor's currently ranked #1 hotel on Panama City Beach, the Holiday Inn Resort. For more information on the upcoming Seafood & Musical Festival, visit http://pcbseafoodfestival.com, and be sure to reserve your room early to secure the best rates.
Ironman Florida Triathlon - November 2nd, 2013
November 2nd triathletes rise to the challenge in the sunshine state's Panama City Beach, during the annual Ironman Florida Triathlon! Athletes and their supports alike enjoy the beach's moderate fall temperatures as they take to the swim, bike, and run courses. It comes as no surprise that many of the triathletes choose the Holiday Inn Resort for their place to stay during this marathon as this resort goes above and beyond to ensure their athletic guests have all the tools available to help them do their best, such as a special carb-loaded buffet, water stations around the resort for when the athletes return, and more.
Emerald Coast Cruizin - November 7th – 9th, 2013
There are many reasons to visit Panama City Beach in November, it's a great time to enjoy walking the beach as well as see the city beyond the sands with all its great shopping and attractions, but car enthusiasts gather at this gulf side destination to enjoy Emerald Coast Cruizin. Thousands of classic cars, custom cars, and trucks pull up at Panama City Beach's Frank Brown Park November 7th – 9th for this fun family event to enjoy the camaraderie of car enthusiasts from all over the southeast region and beyond. With over 125 top name automotive vendors as well as vendors showcasing jewelry, crafts, and more, this is sure to be an event the whole family will enjoy. Check out all the details at http://www.emeraldcoastcruizin.com/.
Vacationers who visit Panama City Beach this fall will certainly enjoy all this great destination has to offer with a wide array of events, less crowded beaches, and great rates at hotels like the Holiday Inn Resort! To learn more about this resort or any of Panama City Beach's upcoming events call 800.633.0266 and speak with one of their friendly reservations team members or visit them at http://www.hipcbeach.com/.