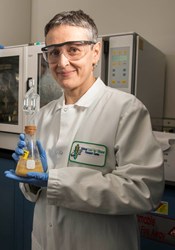 Edwardsville (PRWEB) August 19, 2013
Dr. Sabrina Trupia, Director of Research at the NCERC at Southern Illinois University Edwardsville, will address an international audience via teleconference Tuesday to share her expertise on sweet sorghum, an emerging advanced biofuel feedstock.
Trupia will present her findings on "Sweet Sorghum Inclusion Rates in Ethanol Production." The audience will include plant breeders, agronomists and scientists from Mexico, Uruguay, Argentina and China. All are studying the conversion of sweet sorghum to biofuels and bio-based products.
Trupia will address the group as they participate in the Workshop on Sweet Sorghum for Biofuels and Chemicals sponsored by the Foreign Agricultural Service, Agriculture Research Service and the U.S. Department of Agriculture. The workshop is being held simultaneously in Philadelphia and Wyndmoor, Pa.
"With EPA's approval of grain sorghum as an advanced biofuels pathway, an increasing amount of attention and research is turning to the use of sweet sorghum as a feedstock for biofuels and bio-based products," Trupia said. "Our collaborative research on sweet sorghum with the United Sorghum Checkoff Program demonstrates that interest."
"We heard a lot of great things about Dr. Trupia's sorghum presentation at FEW this summer," said Kevin Hicks, ARS Sustainable Biofuels and Co-Products Research Leader. "Since the topic is highly relevant to our workshop, we invited her to update our participants."
Trupia's 2012 breakthrough conversion of corn kernel fiber to cellulosic ethanol cemented her reputation as a leader in the fermentation of cellulosic feedstocks. She is a highly sought-after presenter at industry conferences and symposiums. In June, Trupia was the only presenter selected to give three highly anticipated talks during the International Fuel Ethanol Workshop in St. Louis.
In September, Trupia is set to deliver two presentations at the National Advanced Biofuels Conference in Omaha.
About the NCERC
The NCERC at SIUE is a nationally recognized research center dedicated to the development and commercialization of biofuels, specialty chemicals and other renewable compounds. The Center's fully functional dry grind pilot plant and laboratories are equipped with advanced biofuels capabilities including corn fractionation, pretreatment, and a fermentation suite with 5, 30, 150 and 1500L scale-up. Facilities are staffed by industry veterans with more than 100 years of collective experience in fermentation and biofuels production. This knowledgeable team has the flexibility and expertise to design and carry out projects in any region of the advanced biofuels or specialty chemicals space. For more information, contact Courtney Breckenridge, (618) 401-9218, cbreckenridge(at)ethanolresearch(dot)com, or visit http://www.ethanolresearch.com.
About SIUE
Southern Illinois University Edwardsville provides students with a high quality, affordable education that prepares them for successful careers and lives of purpose. Built on the foundation of a broad-based liberal education, and enhanced by hands-on research and real-world experiences, the academic preparation SIUE students receive equips them to thrive in the global marketplace and make our communities better places to live. Situated on 2,660 acres of beautiful woodland atop the bluffs overlooking the natural beauty of the Mississippi River's rich bottom land and only a short drive from downtown St. Louis, the SIUE campus is home to a diverse student body of nearly 14,000.