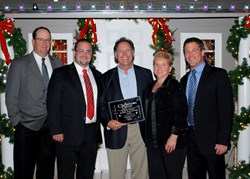 'We truly believe in giving back to the community so we are extremely honored to be the first recipient of this award,' says Chris Senske, President & CEO of Senske Services.
Kennewick, WA (PRWEB) August 18, 2013
Senske Services is the proud recipient of the first ever Maury S. Frankel Award for Philanthropy. The award was presented to Senske at this year's annual Christmas Décor Conference in Las Vegas. Senske earned the award through its Christmas decorating services for deserving families, as well as its enthusiastic involvement with local charities and fundraising activities.
For several years, Senske has been committed to offering complimentary holiday decorating services for military families in the markets they serve through Christmas Decor's annual Decorated Families program. Each year, Decorated Families finds 200 families of deployed service men and women across the country and decorates their homes for Christmas.
Senske Services owner, Chris Senske, who personally accepted the award for his company, explains, "Through Christmas Décor, we have been able to make the holidays brighter for deserving families who are missing a loved one." He also says the idea for the program was proposed by his staff. More information about the Senske tradition of holiday lights may be found on the company's website at Senske's Holiday Lighting services.
The Maury S. Frankel Award for Philanthropy was named in memory of late Christmas Decor franchise owner Maury Frankel, who showed extreme passion for the Decorated Families program. The organization intends on bestowing the award on a deserving franchise at their annual conference every year.
About Senske Services:
Senske Services, Inc. is a leading lawn, tree and pest control service provider that is locally owned and operated, with its corporate office based in Kennewick, Washington. It has been a trusted source of lawn, tree and pest control services since 1947 across Eastern Washington, Idaho, and Utah, as well as pest control in Las Vegas, Nevada. To see what Senske Services can do for you, visit http://www.senske.com/.
About Christmas Décor:
Christmas Decor is the premier holiday lighting and decorating company in North America. The Texas-based company was founded in 1986 by Blake Smith as an off-season supplement to his landscape business and as a method of providing year-round work for employees. Today, Christmas Décor operates in more than 375 markets in 48 states and Canada. For more information, visit http://www.christmasdecor.net/.