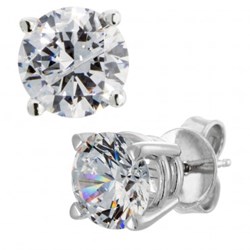 All I can say is…just wait until we unleash the surprise of our additional stud on Friday.
(PRWEB) August 20, 2013
Everyone loves hot studs. Whether it is the lovely gems adorning your ears or the 6-pack-sporting man on your desktop wallpaper, studs are universally oogled.
Diamond Nexus is tapping into this adoration by featuring a fresh stud-wearing stud every day this week along with giving away one pair of their own version of the stud each morning. The contest will run from August 19, 2013 until August 23, 2013.
During this stud-studded week, contestants will be able to sign up daily to win the free pair of the popular Round-Cut Basket Set Studs in 14k White Gold while also viewing some eye candy. For those who don't win, the featured pair of studs will also be offered at the special price of $149, exclusively during the giveaway week.
"With our latest contest, I really want our audience to have some fun while also entering to win free bling through our many social media sites," commented Jennifer London, Social Media Coordinator for Diamond Nexus. "It's an opportunity for us to kick off our shoes and let loose by creating humorous content."
Keep your eyes open on Friday, August 23 for the last day's surprise, featuring a "special guest." As London put it, "All I can say is…the world is in for a treat."
Don't miss out on your chance to see some studs and win some studs everyday this week; and if you're going to check out any of the posts, Friday is definitely not one to miss.
Diamond Nexus was founded in 2004 with the purpose of bringing to the public the powerful benefits of the lab-created diamond simulant revolution. They have over 250,000 customers worldwide that have awarded them an "A+" rating with the BBB. For three years in a row, brides from The Knot have selected them as their Best of Jeweler. In 2009, the company was named the official jeweler and crown maker of the Miss Universe Organization as part of NBC/Universal's "Green is Universal" environmental initiative.