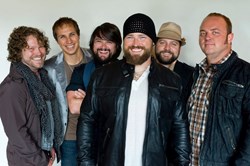 Denver, Colorado (PRWEB) August 17, 2013
With their characteristic good-time zip, the dynamic Zac Brown Band is selling out virtually every venue as they tour the U.S. and Canada. Plus, they just picked up their third Grammy for their latest release, Uncaged.
The good time country boys appear at the Bethel Woods Center for the Arts in Bethel, New York tonight, Saturday August 17, 2013.
From there, the band hits Allentown, Toronto, Saratoga Springs, Hartford, Ridgefield, Quincy, Vancouver, Calgary, Saskatoon, Edmonton, Charlotte, Virginia Beach, Bristow, L.A., Chula Vista, Phoenix, and Sacramento. The wrap is set for the Taco Bell Arena in Boise, Idaho on November 23, 2013.
"The Zac Brown Band broke through in 2009 and has been very hot since, with a string of hits, sold-out tours and 55 award nominations in the last four years alone," said Felina Martinez at online ticket marketplace BuyAnySeat.com. "The band is getting an extremely high volume of traffic right now and shows are selling out."
"That's why we're proud to offer fans the most complete and continually updated listing of concert tickets online, with a worry-free guarantee to protect their purchase," said Martinez.
"To access the selection of Zac Brown Band tickets we have available, fans can go to BuyAnySeat.com and search for the Zac Brown Band – then select their tickets," said Martinez.
Fans can expect the group's trademark mix of feel-good pop and country, with their unique blend of folk, bluegrass and southern music thrown in. Set lists vary with each concert, but usually include the band's nine Number One Billboard Country Chart singles, such as "Chicken Fried", "Toes", "Highway 20 Ride", "Free", "As She's Walking Away", "Colder Weather", "Knee Deep", "Keep Me In Mind" and "Goodbye in Her Eyes".
The band also performs their own distinctive take on hits by other artists such as Metallica ("Enter Sandman"), Aerosmith, Nirvana, Garth Brooks, Jimmy Buffet ("Knee Deep"), Stevie Wonder ("Isn't She Lovely?"), John Mayer ("Neon" co-written by the band's Clay Cook) and the Charlie Daniels Band.
Based in Atlanta, Georgia, the lineup consists of Zac Brown (lead vocals, guitar), Jimmy De Martini (fiddle, vocals), John Driskell Hopkins (bass guitar, vocals), Coy Bowles (guitar, keyboards), Chris Fryar (drums), Clay Cook (guitar, keyboards, mandolin, steel guitar, vocals), and Daniel de los Reyes (percussion).
Critics attribute the band's success to Brown's dynamic and powerful voice, strong back-up vocals, interplay of guitars and good beat – accentuated by the fiddle playing of Jimmy De Martini and southern roots of Douglas "Clay" Cook.
After a three-date gig at Red Rocks Amphitheatre in Colorado in early May, Evan Semon of heyreverb.com wrote, "An assortment of talent pulling from various genres and regions is what has established the Zac Brown Band as the new face of country music."
Since 2009, the Zac Brown Band has earned 55 award nominations from the Grammys, Academy of Country Music, American Music Awards, Country Music Association and Country Music Television, and has won eight, including three Grammys. (Source: wikipedia.org)
To shop for discount Zac Brown Band tickets, visit BuyAnySeat.com.
About BuyAnySeat.com: An online ticket marketplace, BuyAnySeat.com connects sports, theater and other live entertainment fans to an extensive worldwide network of ticket sellers. The site's simplified listings and navigational tools enable fans to easily locate, compare and purchase inexpensive, discounted or lower-priced tickets to virtually all advertised sports and entertainment events around the globe.
The site, which is PCI-compliant and Norton Secured, also provides customers with a complete Worry-Free Guarantee on all ticket purchases. Based in Denver, Colorado, BuyAnySeat.com is a subsidiary of Denver Media Holdings. For more information, please visit http://buyanyseat.com.