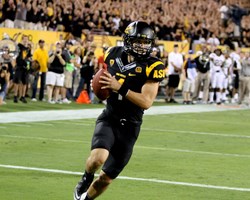 It's the most wonderful time of year, when the weather cools down and ASU football kicks off their upcoming season.
Tempe, AZ (PRWEB) August 20, 2013
It's the most wonderful time of year, when the weather cools down and ASU football kicks off their upcoming season. This year, Head Coach Todd Graham is hoping his team will "smell the roses" as Pac-12 champions in Pasadena, Calif. at the Rose Bowl. He'll be helped by quarterback Taylor Kelly and the lethal running attack of D.J. Foster and Marion Grice. Visit the Tempe Tourism Office website, http://www.TouchdownTempe.com, for ASU football game information, convenient hotel options and details about events and activities.
Fans will be lucky to see a large number of great football schools this season, such as USC, Wisconsin and Oregon State, visit Sun Devil Stadium in Tempe, Ariz. The 2013 season opens up at home with back-to-back games, as the Sacramento State Hornets come to Tempe on September 5, followed by the University of Wisconsin invading Sun Devil Stadium on September 14. This year's Family Weekend game is against Pac-12 rival USC on September 28. The Sun Devils will then pack their bags and head to the Lone Star state, for an October 5 game against the University of Notre Dame Fighting Irish at AT&T Stadium in Arlington, TX. Upon returning, they'll play their Homecoming Game on October 19 against the University of Washington. Finally, the season ends with a home game in Tempe against archrival Arizona on November 30. For tickets, visit http://www.thesundevils.com or call 480-727-0000.
There is no shortage of Tempe hotels conveniently located close to Sun Devil Stadium for those planning a trip to a game. The Tempe Mission Palms is located two blocks from Sun Devil Stadium in downtown Tempe, offering fans a short walk to and from the game. Also within walking distance to the stadium, the Courtyard by Marriott-Tempe Downtown is close to Mill Avenue shops and restaurants. Opening this fall, the Residence Inn Tempe by Marriott is another nearby option for football fans and features a rooftop pool where guests can overlook the stadium.
Fans cannot live by football alone and luckily, Tempe has many fun activities to fill time before kick off. Take a stroll down Mill Avenue, just steps from Sun Devil Stadium. With a wide array of bars and local eateries, it's the perfect place to relax and enjoy some local, Tempe flavor. Tempe Town Lake is a popular tourist attraction, located just north of downtown Tempe where visitors can rent a pedal boat, hydrobike or give paddleboarding a try. Located less than three miles from Sun Devil Stadium, visitors can head over to Tempe Marketplace, featuring a wide variety of restaurants, shopping and live music.
For questions about Tempe hotels, events or shopping, please visit the Tempe Tourism Office website, http://www.TempeTourism.com, or call us at 800-283-6734.
About Tempe Tourism Office
The Tempe Tourism Office is a non-profit organization devoted to marketing Tempe, Arizona as a desirable visitor and group destination site. The Tempe Tourism Office's mission is to provide visitors, media professionals and meeting planners with information on Tempe hotels, Tempe restaurants, Tempe entertainment and local points of interest. To learn more about Tempe, Arizona please call 480-894-8158 or 800-283-6734 or visit our website.