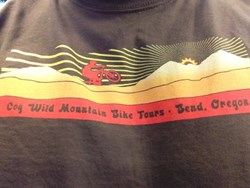 "Our business is empowered by partnerships," - USAFact Chief Executive Officer Matthew Davidson.
Golden, CO (PRWEB) August 20, 2013
USAFact, a leading nationwide provider of background investigation services for more than 36 years, took to the trails to build a stronger business relationship with SJV & Associates, the leading wholesale provider of criminal records research.
"Our business is empowered by partnerships," said USAFact Chief Executive Officer Matthew Davidson. "We believe our annual team building adventures truly build strong synergies with important industry leaders."
Leadership from the two legal and investigative industry firms took to the trails outside of Bend, Oregon to foster a cooperative spirit and discuss different ideas to work together to drive more market share.
"We are looking to create relationships that will take the sales of our innovative background investigation service s to the next level," said Joel Doherty, USAFact Director of Sales. "This leadership development adventure helped bring our teams closer together and I am very excited about the opportunities that will be developed in the future."
Participating in the ride along with Davidson and Doherty was SJV & Associates President Scott Vanek; Director of Operations, Shane Oestricher; Director of Technology, Nick Kelland; and Director of Sales & Marketing, Vince Brodt.
Cog Wild Bike Tours in Bend, Oregon led the leadership adventure along the McKenzie River Trail. The ride featured very technical single track trails through ancient lava flow and excellent rain forest terrain. Greg Dixon, Russ Risdon and Scotty Carlile facilitated the incredible excursion.
About USAFact, Inc.
Successfully operating in the background investigation field for over 35 years, USAFact has been recognized as the hiring solution provider which delivers the most accurate, up to date, and thorough background screens in the industry. As a leading online pre-employment screening service, USAFact combines the latest Internet technologies with the expertise of an experienced professional staff to deliver a proven resource to thousands of clients, processing thousands of reports daily. Offering a variety of screening packages for businesses of any size, from the small non-profit to Fortune 500, USAFact provides services custom-tailored to their individual needs.
For additional information on USAFact's products and services please visit http://www.usafact.com, or call (800) 547-0263.