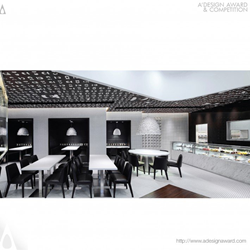 Como, Italy (PRWEB) August 20, 2013
A' Design Award and Competitions are proud to announce that the design 100 Bites Dessert by Danny Chan and Steve Fong has been announced as a winner of the prestigious Golden A' Design Award at Interior Space and Exhibition Design Competition chosen as the winner by the transnational judges of the A' Design Award & Competition amidst thousands of submissions.
Winner Design: 100 Bites Dessert
Taking bite as the design theme, graphic portraits, teeth models, celebrity head visuals are all key features help to stimulate the taste buds of every customer. From the fancy brown and white graphic ceiling, to the white super graphic wall, to the neatly arranged product display wall, together with the 100 biting icons representing different decades, a rich designed black humor flavor confuses.
To learn more, please visit: http://www.adesignaward.com/design.php?ID=27996 .
Team Members for 100 Bites Dessert
100 Bites Dessert was made by Danny Chan and Steve Fong
The Golden A' Design Award
The Golden A' Design Award is a prestigious award given to top 3% percentile designs that has attained an exemplary level of perfection in design. The designs are judged by a panel of three different jury which is composed of Academic, Professional and Focus Group Members. The designs are evaluated with score normalization to remove any biases and are voted on aspects such as functionality, ergonomics, engineering, presentation, innovation, usability, fun details, technology, and any other specific points that could be considered, each of these points are further weighted for different jury groups.
About A' Design Award and Competitions
A' Design Award and Competitions, aims to highlight the excellent qualifications of best designs, design concepts and design oriented products. A' Design Award and Competitions are organized and awarded annually and internationally in multiple categories to reach a wide, design-oriented audience. Learn more: http://www.whatisadesignaward.com .