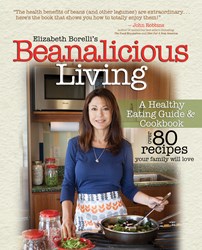 "This book could change your life. In her down-home, family-friendly style, Elizabeth Borelli reveals how beans can be a delicious and affordable foundation of a vibrant and healthy life". Ocean Robbins, CEO, the Food Revolution Network
Santa Cruz, CA (PRWEB) August 20, 2013
Elizabeth Borelli is a leading Whole Foods Lifestyle Consultant and speaker who received her certification in Nutrition Fundamentals from Cornell University. Tired of seeing obesity and health issues rise in our society due to eating too much overly refined processed foods, she wrote her new book available on Amazon, "Beanalicious Living: A Step-By-Step Guide to Breaking Free from Processed Foods and Embracing a Healthy, Nutritious Lifestyle". It not only dispels common myths around organic and whole foods eating, but also includes simple meal planning strategies and over 80 plant-based easy, money saving, fast and kids healthy recipes.
"Most people think that eating healthy whole foods is more expensive, and more time consuming to prepare, than eating processed foods. They also think that those healthy meals are going to taste like cardboard. But none of that is true!" explains Elizabeth Borelli. "I'm a busy mom with a family of four, and handle the meal planning, shopping, and cooking for my husband and two kids. So I can say first hand that bringing healthier foods, such as bean and plant-based recipes into our home as a protein source, has not only made our family healthier, it has also saved us money. But do my husband and children still enjoy a hamburger now and then? Yes! However they also like the other protein-rich, whole foods meals I prepare, so it's all about balance."
It is based on this personal philosophy Borelli wrote her book. When discussing it, she's quick to make it clear that she's not advocating to drastically change ones normal food lifestyle. Rather, she is a firm believer in "easing in" to it by replacing even just one or two meals per week with healthier, whole food, alternatives.
However her book is also ideal for people who already adhere to a healthy eating lifestyle, but are seeking new recipes to add variety to their meal plans. Plus, individuals and families who are focused on weight loss, and reducing health risks such as diabetes and heart disease, are embracing Borelli's book.
Since its release, whole foods and organic foods nutrition experts are willingly sharing their praise for her tips, style, and recipes.
One such review comes from Ocean Robbins, CEO, the Food Revolution Network, and coauthor of Voices of the Food Revolution: You Can Heal Your Body and Your World with Food. His enthusiastic response to Borelli's innovative book was, "Beanalicious Living is fun to read. But don't be deceived: This book could change your life. In her down-home, family-friendly style, Elizabeth Borelli reveals how beans can be a delicious and affordable foundation of a vibrant and healthy life. Complete with mouthwatering and nutritious recipes, insightful commentary, and useful tips, this book will help you and your family to thrive."
Scott Roseman, Founder and Owner of the rapidly growing organic and health food supermarket chain, New Leaf Community Markets, shares, "Beans. What could be more boring than beans? Perhaps a book about beans? Well, in fact, Elizabeth Borelli has put together a fascinating page-turner of a book about how a diet emphasizing beans is not only not boring, but delicious, beneficial for you, and extremely helpful for this planet we all share. Her very personal narrative will keep you engaged, and she rounds out the book with easy recipes that even non-cooks like me can make."
Aside from Elizabeth Borelli's new book, workshops, and consulting, people also benefit from her expertise in a variety of ways online at http://www.ElizabethBorelli.com.
For media interviews, speaking inquiries, or book information, please contact Elizabeth Borelli directly at: 831-247-4290, and Elizabeth(at)elizabethborelli(dot)com.
Book Info: Available on Amazon in both print and Kindle versions
Title: Beanalicious Living: A Step-By-Step Guide to Breaking Free from Processed Foods and Embracing a Healthy, Nutritious Lifestyle
Paperback: 234 pages
Publisher: Self Health Cafe, A Wyatt-MacKenzie Imprint (September 1, 2013)
ISBN-10: 1939288193
ISBN-13: 978-1939288196